Datasheet
Updated: Thursday, December 1st 2022
Safety Module Datasheet (CE-SA-008-0000__2)
Overview
The Safety Module, CE-SA-008-0000__2 is intended to interface safety devices with the MachineMotion V2. The module is based on a multifunctional safety relay which enables and interrupts a safety circuit in a safe way. It can be used to protect people and machines with E-Stop modules and safety devices such as light curtains and laser scanners. If the safety device has a muting option, muting sensors can also be connected to the Safety Module. A yellow flashing LED on the module will indicate if muting is active.
Features
Configuration-free, plug-and-play
Compatible with MachineMotion V2
Daisy-chainable
Compatible with Datalogic SG4 & Keyence GL-R light curtains
Compatible with Datalogic & Keyence laser scanners
Inputs for muting sensor
On-board LED to indicate muting
Bank-switching control inputs for laser scanner
Cables & Connections
Included cables
Safety Module comes with multiple cables. It is important to use the appropriate cable for the intended application and connect it properly. Cables are labeled on both ends to indicate how they should be connected to the module and safety device. The following cables are included:
MachineMotion 2 Safety Extension Cable – 5 m (CE-CA-102-5001) - Connects Safety Module to MachineMotion V2 or to another Safety Module (in which case multiple Safety Modules V2 are daisy-chained). This connection is through the first Safety Module's SAFETY OUT to MachineMotion V2 or the second Safety Module's SAFETY IN.
Note 1: Two safety functions can be simultaneously interfaced with Safety Module (a safety device through SAFETY RX, and an e-stop module through SAFETY IN). However, only one safety device can be connected to the safety module at a time (laser scanner or light curtains). If you need to interface N number of safety devices to MachineMotion V2, you will need N number of safety modules (daisy-chained). Please refer to the User Manual for more information about the connections.
Note 2: If muting is required, connect the muting sensor in pairs to the Muting Sensor Y Adapter. Then connect the adapter to the Safety Module via the MUTING 1 and/or MUTING 2 connectors. Safety Module Muting Kit (CE-AP-002-0000) is not included with the Safety Module.
Note 3: If bank switching is required, connect the Bank Switching Cable for Safety Module and DIOv2 (CE-CA-067-5000) to the CTRL IN connector on the Safety Module and to the Digital IO Module V2 (CE-MD-001-0000__2) outputs. Bank Switching Cable for Safety Module and DIOv2 (CE-CA-067-5000) and Digital IO Module V2 (CE-MD-001-0000__2) are not included with the Safety Module
Muting sensors
The output type of the muting sensors that connects to Safety Module must be NO, NPN. Safety Module includes two Muting Sensor Y Adapters (CE-SA-107-0001), which allow you to connect up to four muting sensors.
Safety IN port
This port connects to the SAFETY OUT port of another Safety Module (if daisy-chaining multiple safety modules) or to an E-Stop and Reset Module 2 (CE-SA-007-0000). IMPORTANT: If the SAFETY IN port is not used, insert the included yellow jumper.
Control IN port
This port can be connected to an output port of a Digital IO Module (CE-MD-001-0001) using the included M12 A-Keyed 4-Pin Female to Leads Cable. It is intended for the bank switching option when using a laser scanner with the safety module.
Power and Fuse Lights
Safety Module is 24-V powered through the SAFETY OUT port. When powered, the white POWER LED light turns on. If 24 V and 0 V are shorted on one of the Safety Module ports, the red FUSE LED light will turn on, indicating a short fault. The LED will turn off when the short fault is removed.
Technical specs
General Specifications
Part Number
CE-SA-008-0000__2
Weight
0.8kg
Dimensions
19.0 x 15.0 x 9.0mm
Material

Bottom enclosure: ABS
Top enclosure: Aluminum

Operating Temp
0 to 40°C
Included in the box

1x Safety Module (CE-SA-008-0001__2)
1x MachineMotion 2 Safety Extension Cable – 5 m (CE-CA-102-5001)
1x MM2 Safety Jumper (CE-SA-102-0001)
2x M8 Drop-in Spring Loaded T-Nut (HW-FN-002-0001)
2x M8 x 18mm Screw (HW-FN-003-0018)
Electrical Specifications
Nominal input voltage
24 VDC
Input voltage range
19.2 ~ 26.4 VDC
Operating power consumption

With light curtains (TX and RX) and muting sensors: 8.4 W
With laser scanner and muting sensors: 8.4 W

Peak power consumption

With light curtains (TX and RX) and muting sensors: 18.6 W
With laser scanner and muting sensors: 42 W

Compatible muting sensor output type
NO, NPN
Short circuit protection
Internal E-FUSE IC
Max current allowed
2 A
Post-short current
250 mA
Release delay at 24 V
< 40 ms
Safety RX - Pin-out - M12, female, 12-pin, A-Keyed
| | |
| --- | --- |
| Pin 1 | 24 VDC |
| Pin 2 | 0V |
| Pin 3 | Muting 2 |
| Pin 4 | NC |
| Pin 5 | OSSD2 |
| Pin 6 | Muting LED Laser Scanner |
| Pin 7 | Muting 1 |
| Pin 8 | OSSD1 |
| Pin 9 | Output 2 |
| Pin 10 | Muting LED Light Curtain |
| Pin 11 | Output 1 |
| Pin 12 | Earth |
Safety TX - Pin-out - M12, female, 5-pin, A-Keyed
| | |
| --- | --- |
| Pin 1 | 24 VDC |
| Pin 2 | NC |
| Pin 3 | 0 V |
| Pin 4 | Earth |
| Pin 5 | NC |
| | |
Muting 1 and Muting 2 - Pin-out
| | |
| --- | --- |
| Pin 1 | 24 VDC |
| Pin 2 | NC |
| Pin 3 | 0 V |
| Pin 4 | Muting 1 / Muting 2 |
Control IN - Pin-out - M12, male, 4-pin, A-Keyed
| | |
| --- | --- |
| Pin 1 | NC |
| Pin 2 | Output 1 |
| Pin 3 | 0 V |
| Pin 4 | Output 2 |
Safety IN - Pin-out - M12, female, 12-pin, A-Keyed
| | |
| --- | --- |
| Pin 1 | 24 VDC |
| Pin 2 | 0V |
| Pin 3 | Channel 1 Contact 1 |
| Pin 4 | Channel 1 Contact 2 |
| Pin 5 | Channel 2 Contact 1 |
| Pin 6 | Channel 2 Contact 2 |
| Pin 7 | Reset Contact 1 |
| Pin 8 | Reset Contact 2 |
| Pin 9 | NC |
| Pin 10 | NC |
| Pin 11 | NC |
| Pin 12 | NC |
Safety OUT - Pin-out - M12, male, 12-pin, A-Keyed
| | |
| --- | --- |
| Pin 1 | 24 VDC |
| Pin 2 | 0V |
| Pin 3 | Channel 1 Contact 1 |
| Pin 4 | Channel 1 Contact 2 |
| Pin 5 | Channel 2 Contact 1 |
| Pin 6 | Channel 2 Contact 2 |
| Pin 7 | Reset Contact 1 |
| Pin 8 | Reset Contact 2 |
| Pin 9 | NC |
| Pin 10 | NC |
| Pin 11 | NC |
| Pin 12 | NC |
Applications
Safety Module interfaces safety devices with MachineMotion V2. Typical safety devices include:
Light curtains
Laser scanners
Vention E-Stop and Reset Module 2 (CE-SA-007-0000)
Safety Module with light curtains (no muting)

Safety Module with light curtains (with muting)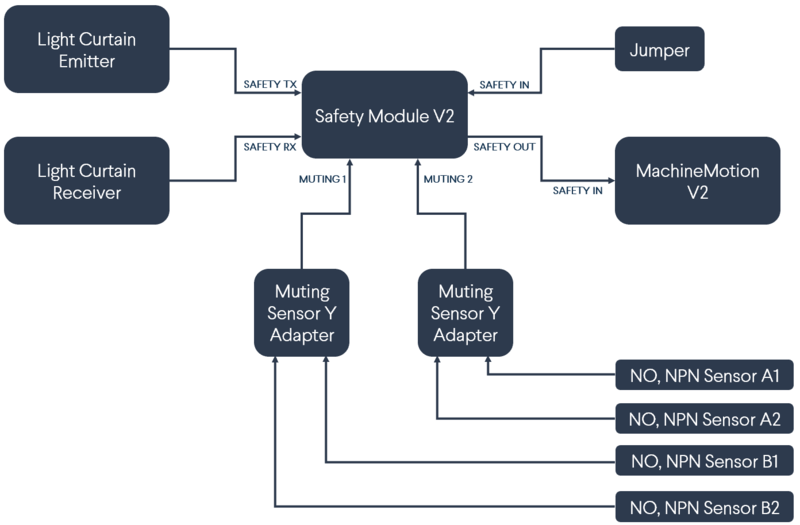 Safety Module with laser scanner (no muting)

Safety Module with laser scanner (with muting)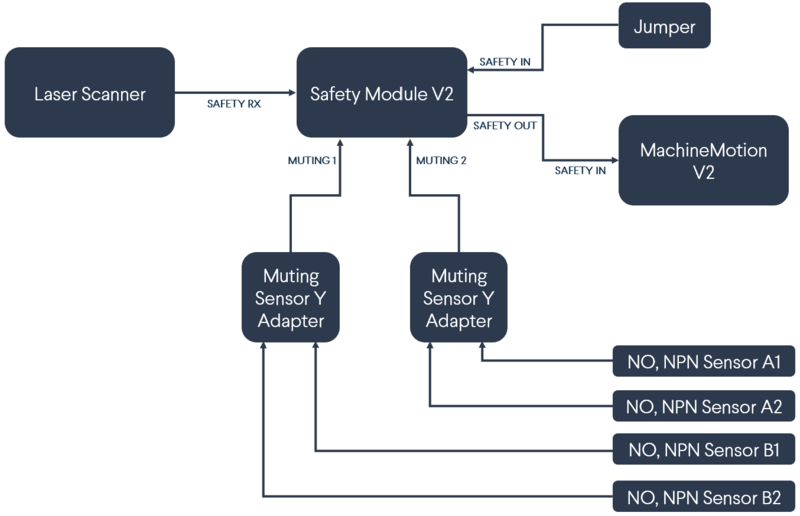 Safety Module with laser scanner (with muting and bank switching)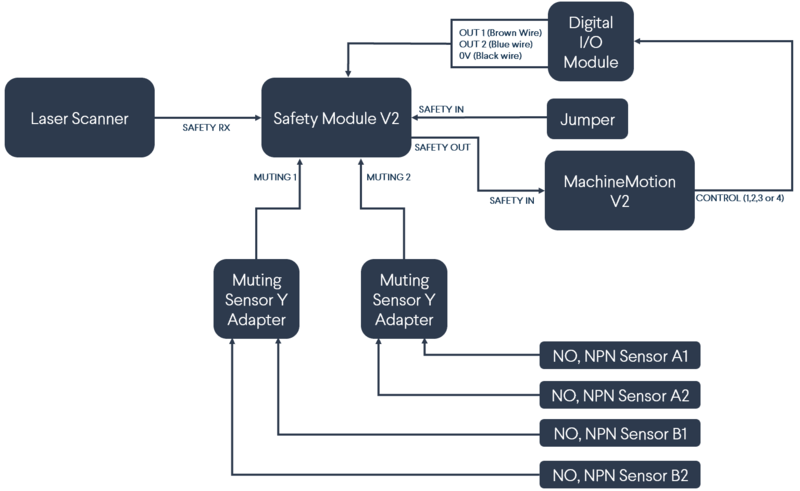 Safety Module with e-stop module and laser scanner (with muting)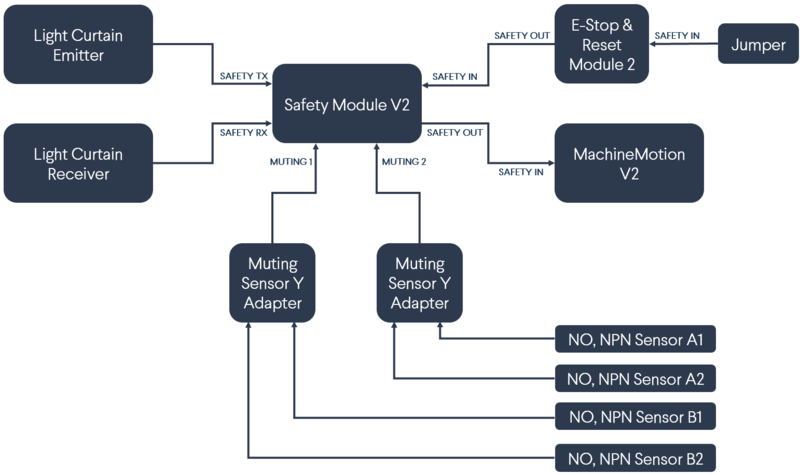 2x Daisy-chained Safety Modules V2 (light curtains and laser scanner)