Datasheet
Updated: Wednesday, January 12th 2022
Application Programming Interface: Python v4.3
Application Programming Interface: Python v4.3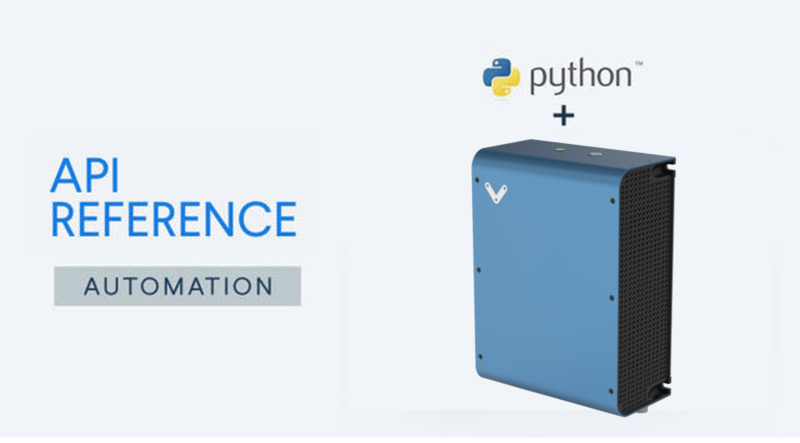 Overview
This is the developers reference manual for version 4.3 of MachineMotion's Python API. This API is compatible with Python version 3.6 and later.
If this is your first time using the MachineMotion controller, please follow the Python programming manual here.
Version 4.3 of the API is compatible with MachineMotion controller software version 1.12 and later. If your controller software is 1.2.11 or earlier, please refer to Python API v2.2.
To get your controller software version, refer to the user manual here.
Download
The Python API comes pre-installed on your MachineMotion controller. To update the API version or download it to an external computer, follow this link to version 4.3 of the Python API on Vention's Github.
MachineMotion v2 One-Drive
For use with MachineMotion 2 One-Drive (CE-CL-010-0001) please refer to the provided example which can be found here.
API Reference
class MachineMotion(object)
class MACHINEMOTION_HW_VERSIONS
class DIRECTION
class AXIS_NUMBER
class UNITS_SPEED
class UNITS_ACCEL
class DEFAULT_IP_ADDRESS
class MICRO_STEPS
class MECH_GAIN
class STEPPER_MOTOR
class AUX_PORTS
class ENCODER_TYPE
class BRAKE_STATES
class TUNING_PROFILES
class CONTROL_LOOPS
class POWER_SWITCH
class PUSH_BUTTON
class COLOR
class STATE
class MOTOR_SIZE
class MQTT
class PATH
class CONTROL_DEVICE_SIGNALS
class CONTROL_DEVICE_TYPE
class CONTROL_DEVICE_PORTS
class NETWORK_MODE
Examples