Datasheet
Updated: Thursday, August 26th 2021
Angled Robot Mount
Overview
Robots can be typically attached to Vention assemblies via a robot plate, which are made of 6061 – T6 aluminum. Many plates feature dowel pins for repeatable mounting. Standard Vention robot plates are square and come in four nominal widths: 180mm, 225mm, 270mm and 315mm. Thickness ranges from 11.25-32mm.
Angled Robot Base
For certain applications, like machine tending and bin picking, you might want to mount a robot arm at a 45-degree angle.
According to our research, cycle times can be reduced by 20–40% simply by varying parameters[1]  like machine location, bin orientation, and robot base angle. Vention's 45-degree angled robot mounting solution is perfect for optimizing these factors.
Designed in accordance with the forces and moments specified by the leading robot manufacturers[2] , it provides two mounting positions: horizontal and angled (45 degrees). The robot mounting solution consists of one 225 x 225-mm mounting plate (ST-GP-005-0010) and two right-angle support gussets (ST-GP-005-0012) with threaded M8 holes on the 45-degree surface.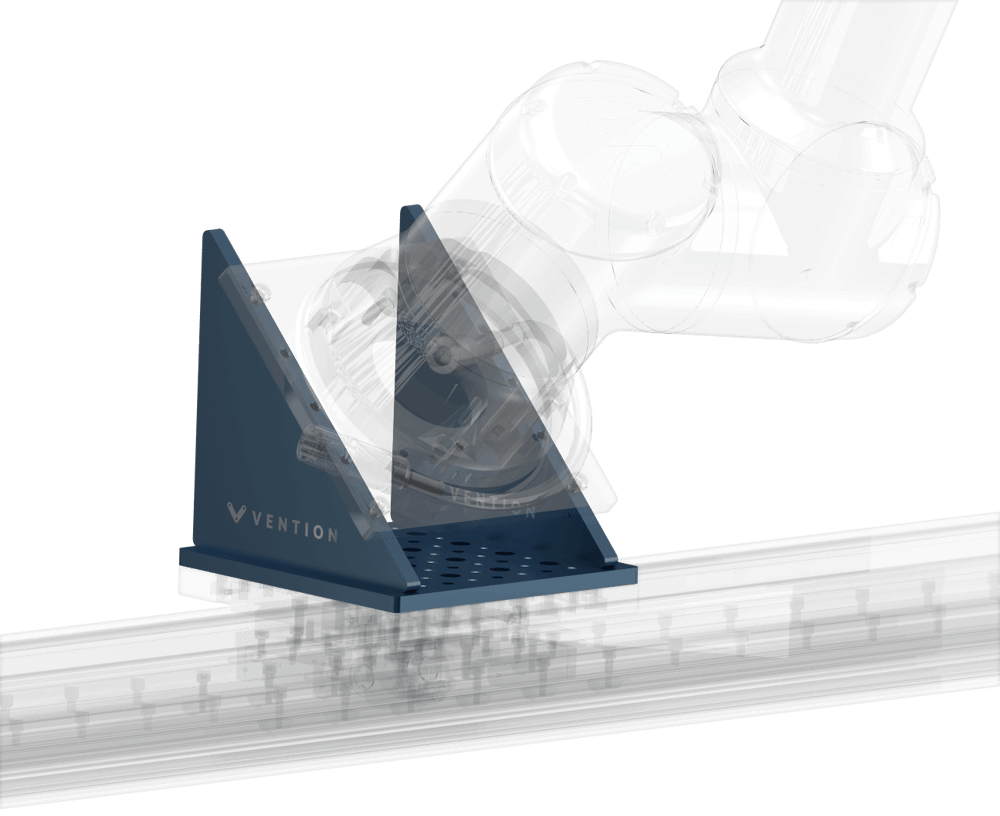 The angled robot mount supports all Vention-designed robot plates of size 225 x 225 mm and 180 x 180 mm. As for the base of the mount, you can attach it to any Vention extrusion through the available holes in the mounting plate with M8 x 18-mm bolts and t-nuts.