Leveraging automation to augment manufacturing processes
Compass Coffee added a cobot palletizer to their production line to help reduce the physical demands of their production and create more time for its customers
Increased palletizing quality
Increased time spent on high-value tasks
Story Highlights
Turn-key solution adapted to customer needs
Automated palletizing has alleviated labor demands for end-of-line packaging and enabled staff to focus on higher-valued tasks
The quality of palletizing has increased with the automated system, leading to fewer delivery problems at client sites
The simple UI of the Vention pendant has made training staff and operating the machine fast and simple
Compass Coffee's cobot palletizer was a turn-key solution that was tailored to match the exact production needs of the coffee roaster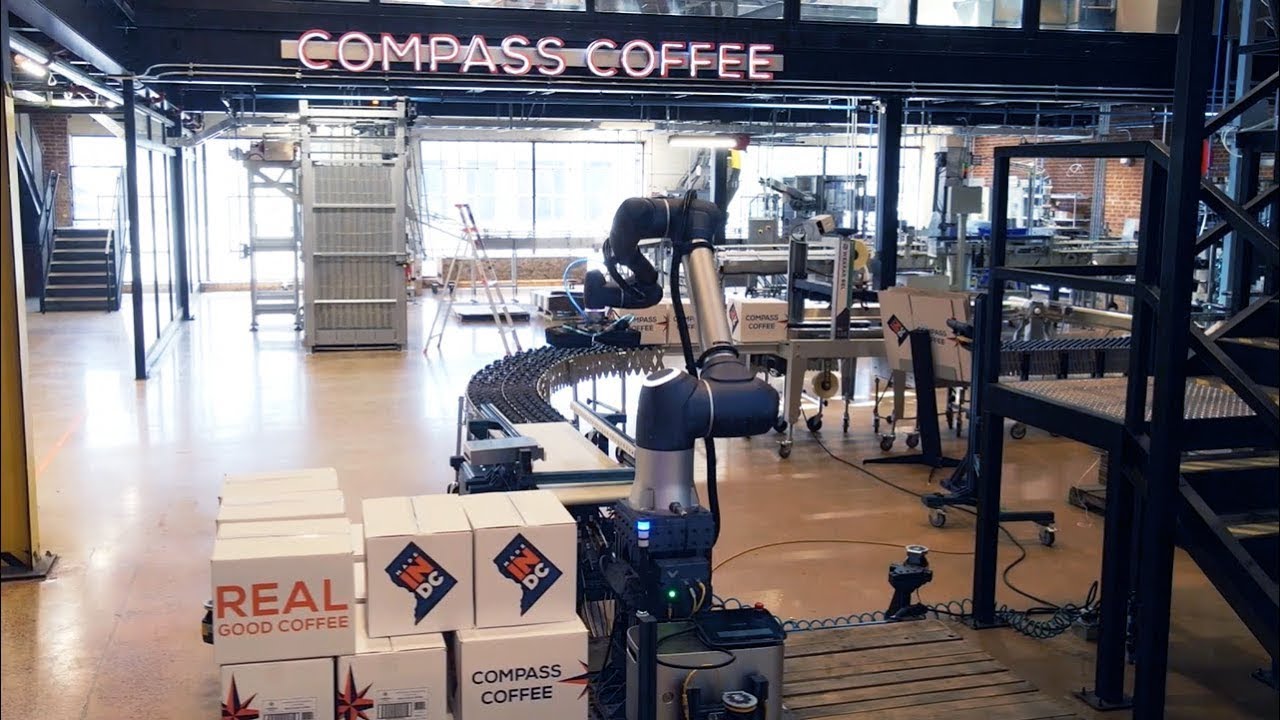 The Problem
Repetitive tasks and low quality palletizing
Compass Coffee wanted to automate more of its production line by introducing a cobot palletizer to its end-of-line packaging. A cobot palletizer was the missing piece of their process that would help push the coffee roaster toward complete automation from receiving the raw coffee beans all the way through to a finished product ready for shipment.
"What makes Vention incredible is not only the quality of the work they provide, but the adaptability of their team to fit the specific needs of their customers. This level of adaptability is a really rare thing."
The Project
Finding the right solution
Compass Coffee worked with Vention to build the initial project scope and design a solution that was unique to their business and processes. Despite not having a fast production line, there is a large variance in product types, and the palletizer needed to be adaptable to these variances.
The Results
Improving quality through automation
Compass Coffee is now able to have very few people on the production line, which is capable of producing thousands of pounds of coffee with little manual intervention. With the added automation to their end-of-line packaging, Compass Coffee can now use that saved time on higher-valued tasks, such as teaching new baristas about the coffee journey or spending time with customers. The result of this added automation is both a higher quality end product for their customers and a more engaged and knowledgeable team.
Project Specs
Gripper
Joulin Dual Vacuum Gripper
Pallet Configuration
Dual
Safety System
Three area scanners