Building the Vention Automation Partner Channel
March 13, 2023
|
Quinn Harker
Three years of successful partnerships
In 2020, we launched the Vention Automation Partner (VAP) program. This initiative enables leading automation providers and machine builders to deploy highly customized equipment faster and more profitably by leveraging Vention's Manufacturing Automation Platform (MAP).
Three years later, the VAP program now has over 100+ partners worldwide and a 2x yearly adoption rate. With MAP, our partners can leverage Vention's ecosystem to quickly address the growing markets' demands for automation solutions and deploy them up to 4x faster. And it's only the beginning of what automation providers and Vention can accomplish together.
The fastest and most reliable path toward automation
The VAP program enables the industrial automation and machine design community to create more advanced, end-to-end automated equipment, whether it's for industrial furniture, manufacturing cell building, or cobot automation cells.
With Vention's unique approach to industrial automation, our partners are provided with integration and deployment benefits through our best-in-class library of 1,000+ modular components to create true plug-and-play automation. Our partners also get access to design service capabilities, instant quoting, and fast direct or drop shipping. Simply put, our VAP program equips automation providers and machine builders with an advantage over their competition, allowing them to lean in on their most profitable areas of a project while maximizing working capital.
"Our VAP network has been growing quite fast and it has been an incredible journey to work with so many industry leaders," said Peter Martinez, Vice President of Channel Development."With Vention and our VAP partners working closely together, we have been able to increase the adoption of simple and complex industrial automation projects by making the process faster and a lot simpler. We truly become an extension of our partners' sourcing and engineering teams."
Hear from our existing Vention Automation Partners
Mid Atlantic Machinery Automation
Mid Atlantic Machinery Automation (MAMA) is a U.S.-based leading machine tool and fabrication equipment distributor that integrates Universal Robots collaborative robots with metal machinery. MAMA joined Vention's VAP program in September of 2021 and together we have partnered on 30 projects.
"Vention allows us to meet our customer's demands by supplying extruded aluminum assemblies for safety and robot mobility. This allows us to focus on our value-add side of the business and develop new technologies." - Josh Mayse, Vice President
(Pictured: Two press brake operators made of Vention extruded aluminum assemblies. Picture is copyright of MAMA.)
SE Automation
SE Automation is a Stockholm-based automation distributor that creates comprehensive automation solutions for its clients. SE Automation joined Vention's VAP program in February of 2022 and together we have created several projects from cobot welding to cobot material removal applications.
"When building a grinding application, it's very seldom going to be collaborative. Building a cell like this using Vention is so flexible and we can create a safe application using Vention as a one-stop-shop for all structural components." - Ludvig Briheim, Project Manager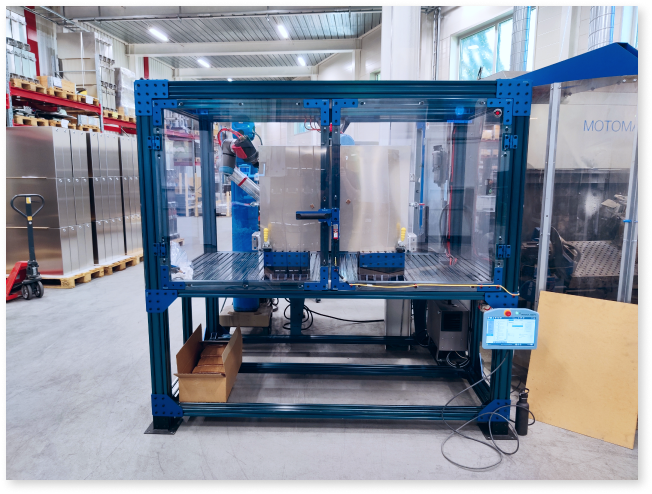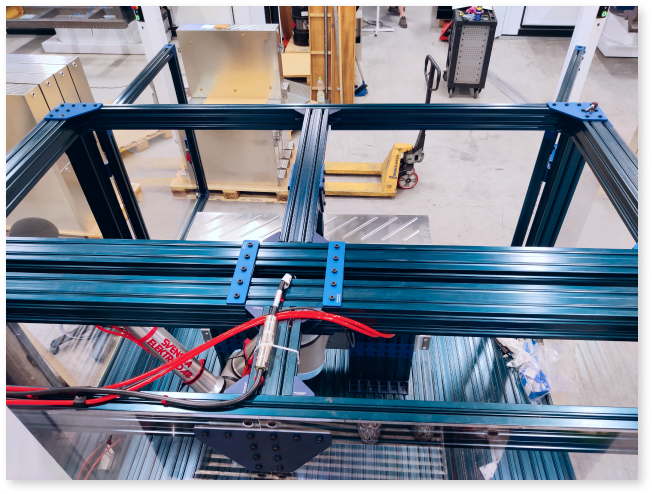 (Pictured: CoboGrind, a custom grinding application made of a Vention cell. Pictures are copyright of SE Automation.)
Kanavu Automation
Kanavu Automation is an equipment automation and industrial robotics systems integrator based in the San Francisco Bay Area. A FANUC System Solutions Advisor, Kanavu joined Vention's VAP program in October of 2021 and together, Vention and Kanavu have deployed projects ranging from the medical device industry to food & beverage.
"Vention was the missing link to take our business to the next level. They are helping small automation businesses be competitive in the marketplace.  We are excited to continue to grow with Vention and we look forward to seeing what new application kits they release next!" - Vinod Anandarajah, Co-Founder & CEO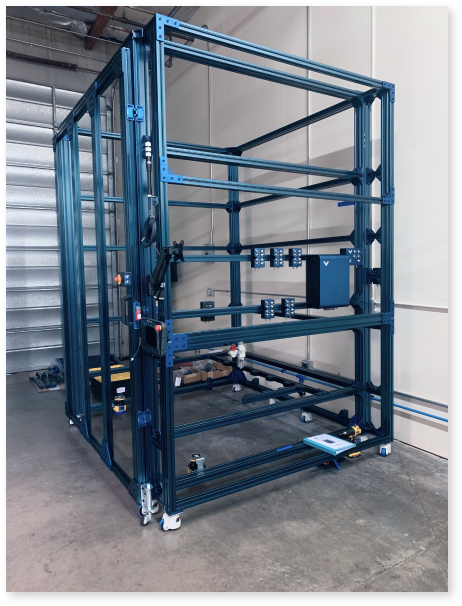 (Pictured: Large inspection machine made of Vention hardware and software, including Vention's MachineMotion controller and I/O modules. Picture is copyright of Kanavu Automation.)
Is your company interested in becoming a VAP? Contact a Channel Development Manager today: david.carlos@vention.cc (Americas) & mathias.mueller@vention.cc (EMEA)