Creating the most comprehensive and easy-to-use software platform for the automated factory
June 20, 2022
|
Etienne Lacroix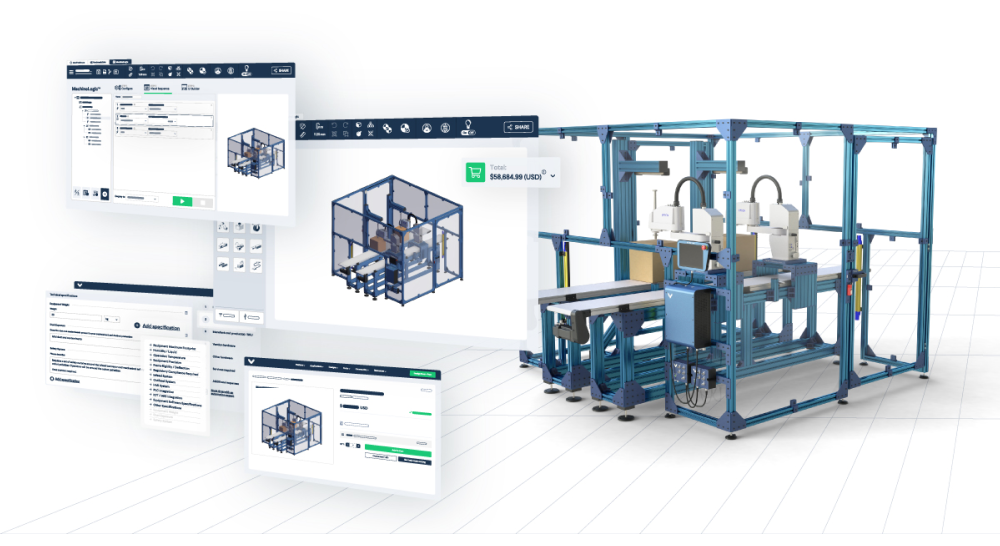 Phase One: Choosing the hard starting point
Vention will be turning six years old next month. All this time, our mission has been to democratize industrial automation and we initially focused on hardware.
This wasn't the easy path, but it was the right one. Traditional hardware solutions are just too complex to enable a democratized user experience. They're geared toward a narrow group of experts who have made integration and deployment of their careers.
We believe industrial automation should be accessible to a much wider group of manufacturers, regardless of their production volume. So we created an exhaustive plug-and-play automation hardware ecosystem, one in which automation enclosures, pig-tail wires, and custom parts were forbidden.
With over 1,000 LEGO-like automation components, Vention brought several innovations to market, including single screw-size hardware; a full suite of plug-and-play actuators and sensors; and high-strength t-slot aluminum extrusions. These components have been field-tested over millions of permutations.
Consequently, Vention now removes a significant portion of the technology risk inherent to all industrial automation projects. This means practitioners can focus on their core skill: automating the processes they know best without worrying about the tech.
But all this was only Phase One.
Phase Two: Building a software platform for the automated factory floor
Today, we're announcing our first subscription-based product in what will become the Vention software platform for automated factory floors: MachineLogic V4.0.
MachineLogic V4.0
MachineLogic V4.0 offers code-free programming of robot arms and automation components, at both freemium and subscription price points. New users can leverage the full MachineLogic feature set in its cloud version, with subscriptions required for those seeking to deploy equipment on the factory floor. Staying true to our mission of democratization, Vention users will be able to create automated equipment virtually and assess the ROI before committing to a subscription.
MachineLogic V4.0 is packed with new features, raising the ceiling on equipment that can be programmed code-free. Multi-MachineMotion compatibility, simultaneous robot- and Vention-actuator programming, and JavaScript lambda functions are good examples. But this is only the beginning of a series of releases that we have planned for MachineLogic this year.
MachineLogic V4.0 will be available on July 25th, 2022 and is compatible with MachineMotion, Vention's plug-and-play motion controller.
Want to find out everything you can do with MachineLogic? A subscription includes onboarding training for your team and access to our customer success team for ongoing support.
This is the beginning of our second phase of development at Vention, with additional industry-shaping announcements planned as early as Q3 2022. One thing is sure: opportunities to democratize industrial automation are much greater when you combine hardware and software. As Alan Kay and Steve Jobs said, "People who are really serious about software should make their own hardware."