Vention at Global Industrie 2023: Thoughts and experiences from our team on the ground
March 13, 2023
|
Quinn Harker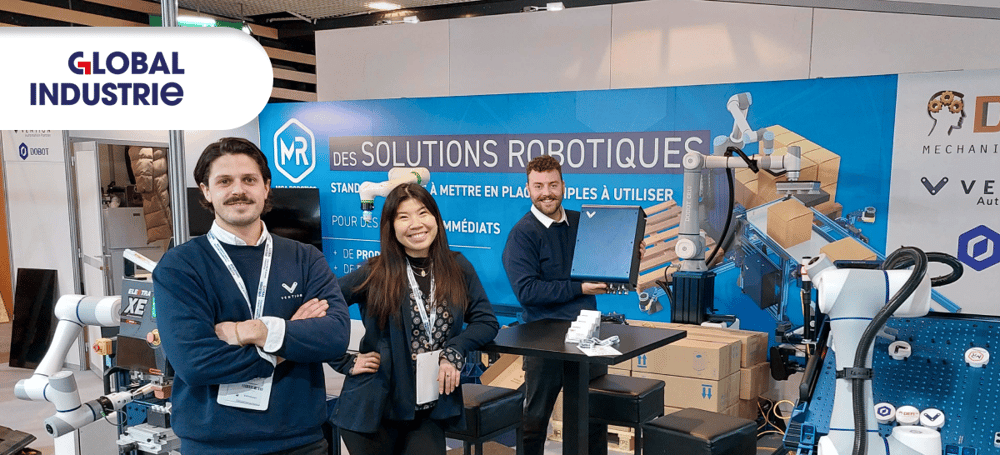 From March 7th - 10th, Vention attended Global Industrie, the leading industry exhibition in Lyon, France. Divided into 15 zones and specializing in fields across robotics, digitalization, automation, additive manufacturing, and 3D printing, 2,300 exhibitors gathered to demonstrate new technologies. Within the robotics zone, recent technological advancements and the rising adoption of robotics in manufacturing have transformed the industry by increasing competitiveness, resulting in improved efficiencies, reduced costs, and raised product quality.
Vention attended the event showcasing four demos designed and deployed through Vention's Manufacturing Automation Platform (MAP). By leveraging MachineBuilder and MachineLogic, MCA Groupe demonstrated best-in-class solutions designed with a library of 1,000+ modular components and the ease of intuitive programming to create true plug & play automation.
Four best-in-class automated solutions:
Vention's MachineLogic low-code environment with FANUC CRX10ia range extender
Vention demonstrated how you can extend the range of your cobot with a plug & play, pinch-point-free 7th axis. Programmed and simulated in MachineLogic prior to deployment, our robot linear rail systems are controlled through Vention's MachineMotion controller, allowing for an intuitive and code-free deployment—no advanced coding expertise required.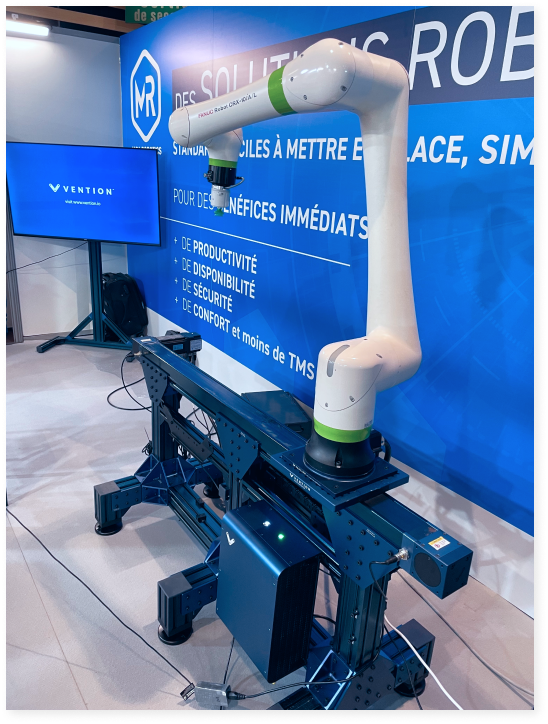 Vention's cobot palletizer with a DOBOT CR10
MCA Robotics built their custom Vention cobot palletizer on MachineBuilder, equipping it with an in-feed conveyor, robot base, and pallet frame for a modular and cost-effective solution to palletize a wide variety of products. In order to customize the kit for various needs, users can select between a fixed pedestal or a telescopic column and add any peripheral equipment such as grippers, safety area scanners, fencing, or light curtains.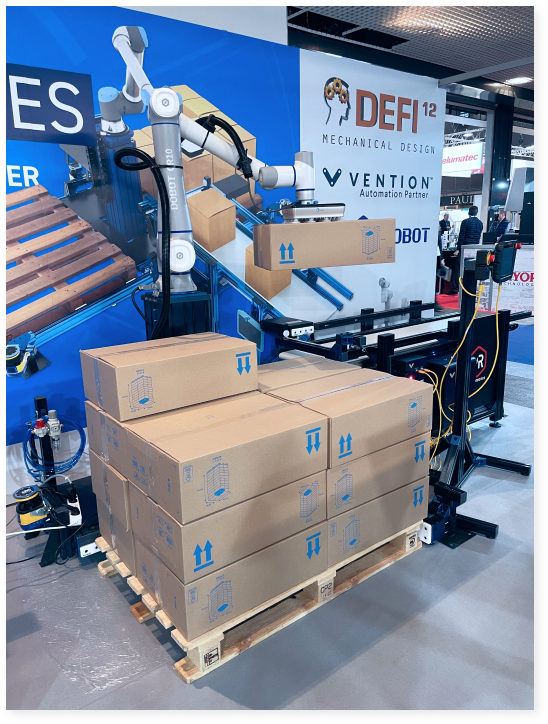 Vention's machine tending drawer system with DOBOT CR10
Featuring Vention's mobile machine tending cart with an adjustable tray system, this cart allows manufacturing floors to accommodate current and future tending. Such drawer systems are intended for large-volume production where long machine autonomy is required. It is designed to fit a wide range of cobots with accommodations, locating features, and lockable casters.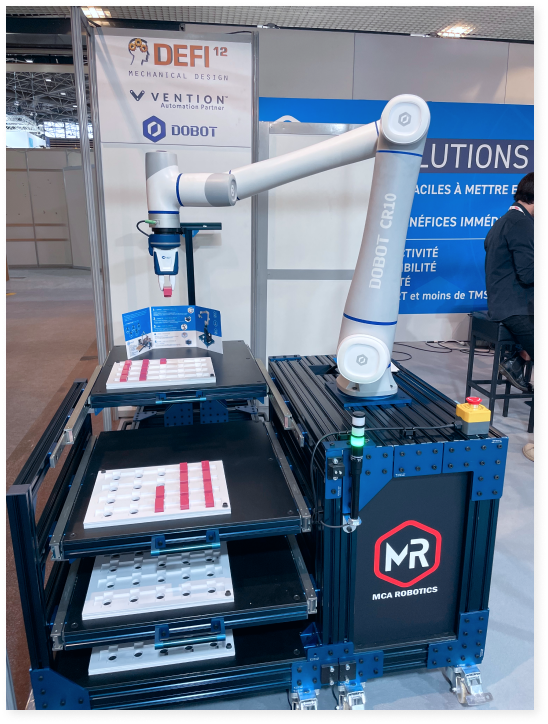 Vention's machine tending tray system with DOBOT CR5
As opposed to drawer systems, Vention's mobile tray systems are intended for high-mix production environments that require quick robot redeployment. Trays can be easily reconfigured to part geometry using positioning pins and can be fully customized to accommodate a wide range of robot brands, robot bases, grippers, and part presenters.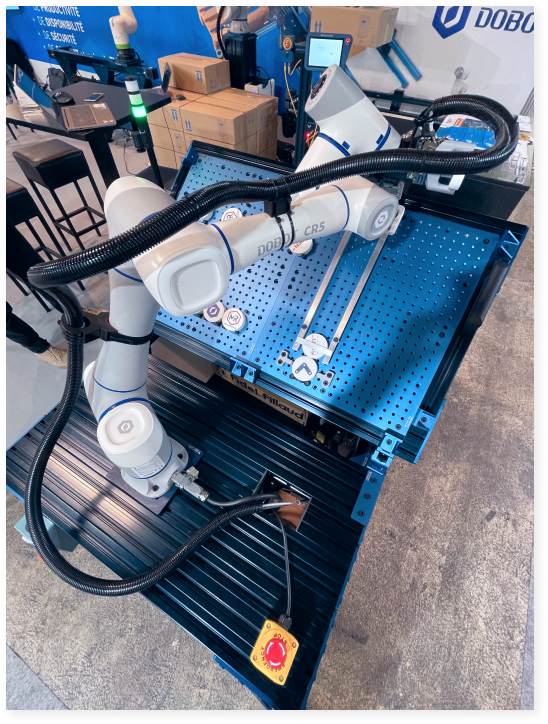 Industry trends shared by the Vention team:
Over the course of the 4-day event, the Vention team recognized some common industry trends:
There is an increase in demand to automate machine tending applications and end-of-line solutions.
The labor shortage is the main driver behind the initiative to automate. Many attendees came to the trade show to see innovative products and discover automation possibilities for their manufacturing floor.
There is an increased curiosity for 5 -10kg cobot solutions compared to traditional robots.
Automation is a topic that is still new and foreign to most manufacturers therefore, most of them visit the show for educational purposes.
"Despite growing publicity around automation and robotics, many manufacturing corporations are still relatively new to deploying these technologies and lack the in-house knowledge and expertise to do so. Therefore, showcasing Vention's Manufacturing Automation Platform alongside our hardware at Global Industrie exposes manufacturers to new methods of deploying automation," said Brian McHugh, Vice President of Sales at Vention.
#Ventionblue throughout Global Industrie:
Shout out to FANUC, Techplus, and Energence for integrating Vention into their booths!
Global Industrie main lobby
A FANUC CRX-10iA on a Vention mobile cobot workstation was displayed in the main lobby of Eurexpo Lyon.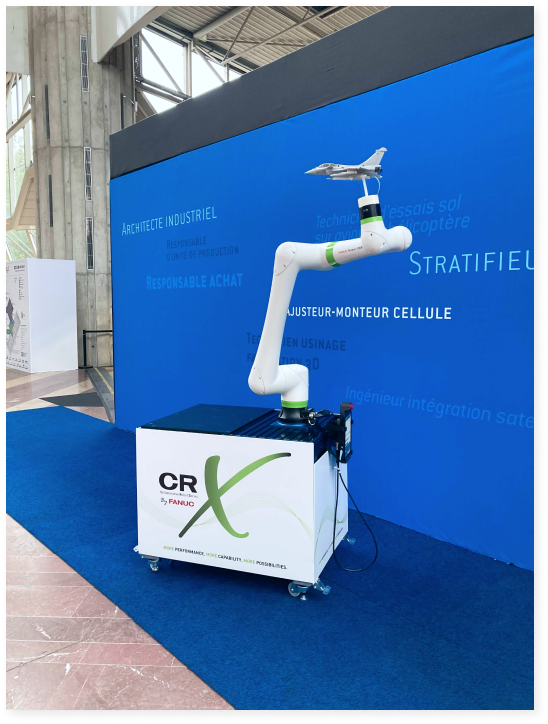 Techplus
Located in France, Techplus is a system integrator that focuses on both standard and tailor-made solutions intended to increase their client's productivity. They showcased a FANUC CRX-10iA on a Vention mobile workstation with a Shunk gripper, demonstrating the versatility of pick & place applications.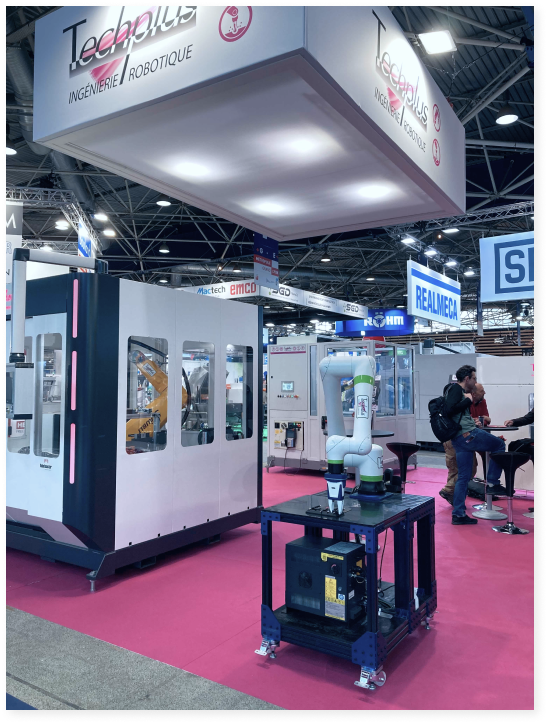 FANUC
FANUC is the world's leading supplier of automation, including robots, CNCs, and Motion Control. Their booth featured four machine tending carts. Pictured below is a Vention machine tending cart with the CRX10iA tending to a FANUC CNC, with a FANUC 3DV/200 vision sensor, and an OnRobot 2FG7 Parallel Gripper.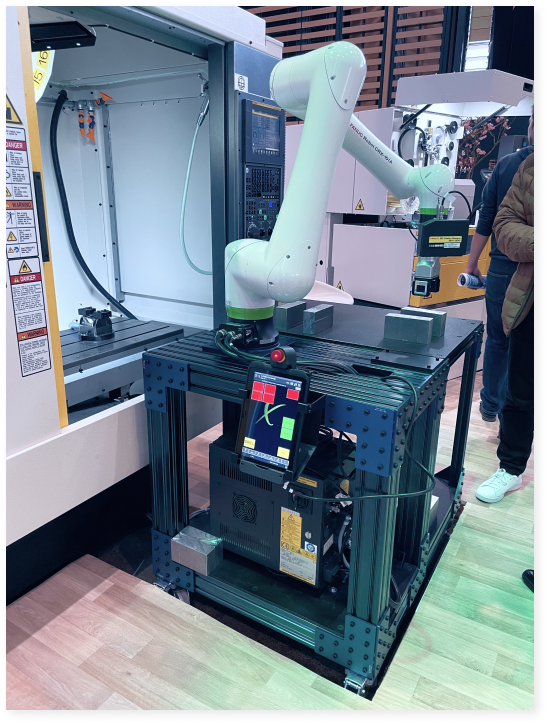 Energence
For more than 25 years, Energence has been designing and implementing command and control solutions for industrial applications in the refrigeration and air conditioning engineering field. Pictured below is a Vention machine tending cart with the CRX10iA, using an electric two-finger parallel gripper to showcase a pick & place application.