Vention at FABTECH 2023: The latest innovations in metal forming, fabricating, welding, and finishing
September 18, 2023
|
Quinn Harker
FABTECH 2023 is North America's largest metal forming, fabricating, welding, and finishing event. The four-day event features some of the most innovative companies that are pushing the boundaries of manufacturing with solutions to improve productivity and increase profits.
Vention attended FABTECH with not one but four demonstrations that showcase the power of our Manufacturing Automation Platform. Through the combination of modular hardware and intuitive software, Vention led the way in showcasing accessible automated solutions for machining, inspection, and material handling.
"The Vention team had an amazing week at FABTECH. We meet thousands of manufacturers to discuss their automation pain points and how Vention's Manufacturing Automation Platform could enable them to resolve those challenges. We also announced our new Coordinated Motion capability, which unlocks more speed for applications." - Anik Roy Trudel, Vice President of Product Line Management
Four demos showcasing the latest in machining, inspection & material handling
CRX10 Machine Tending
This demo showcased machine tending automation, featuring the CRX-10iA/L from FANUC. Users looking to automate the tending of CNC, lathes, and other equipment can design a custom robot cart with a tray or drawers specifically for their part. The modularity of the platform allows users to select the proper robot, gripper, and accessories for their needs, such as drawer slides, handles, and more. This application emphasized how Vention's solutions can enhance efficiency and precision in the manufacturing process.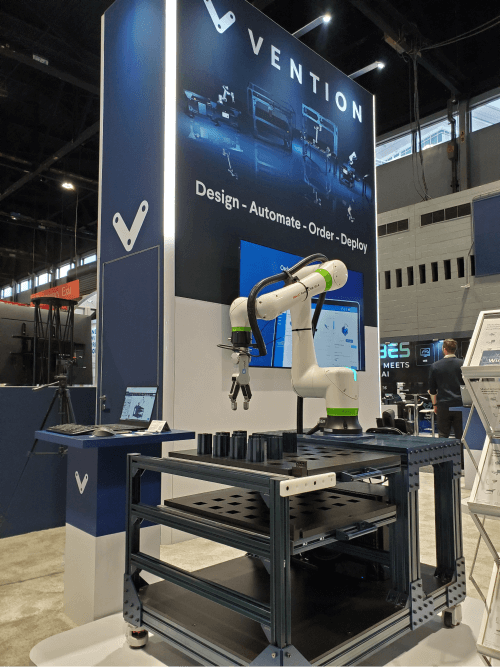 UR5e 7th Axis with Coordinated Motion
We paired a UR5e cobot with a Vention range extender to demonstrate Coordinated Motion between the robot and the actuator, exemplifying the seamless integration of Vention's automation components. Coordinated motion will enable customers to improve the performance of their applications by allowing them to:
Improve their system cycle time due to our new synchronized motion capability.
Keep constant cartesian TCP speed while moving the robot and range extender together (sanding, welding, inspection, etc.).
Know where the TCP is exactly while both the robot and the range extender are moving (since the motion is synchronized) to trigger IO or start a process at the desired TCP position.
Path Following Gantry
In our path following gantry demo, visitors could experience just how simple it is to configure complex paths with Vention. Users can upload their G-code, a standard CNC programming language, to have the actuators precisely trace a predefined shape. This functionality opens doors for a wide range of applications and customization possibilities, all while keeping within Vention's low-code programming environment.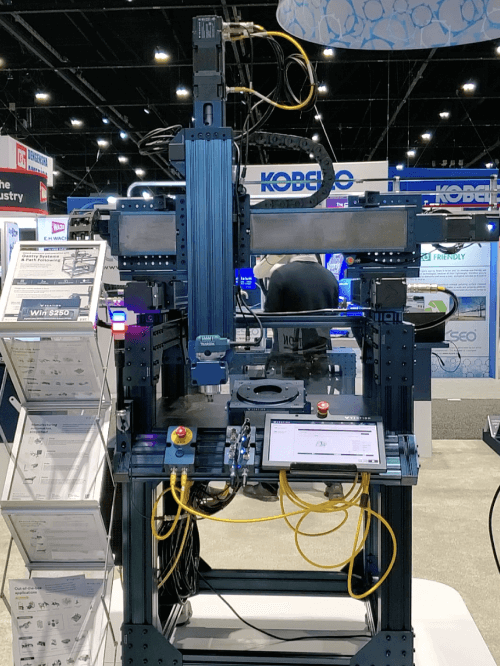 2-Axis Gantry with Remote Support & MachineCloud
Vention's 2-axis gantry showcased how users can program their Vention actuators their way, using MachineLogic's no-code environment or via our native Python integration. Furthermore, this demo showcased Remote Support capabilities on the new teach pendant. The Remote Support service enables users to connect with Vention's Customer Success team within 10 minutes directly from their machine. This feature underlines our commitment to ensuring users can easily operate and maintain their automation equipment to avoid downtime.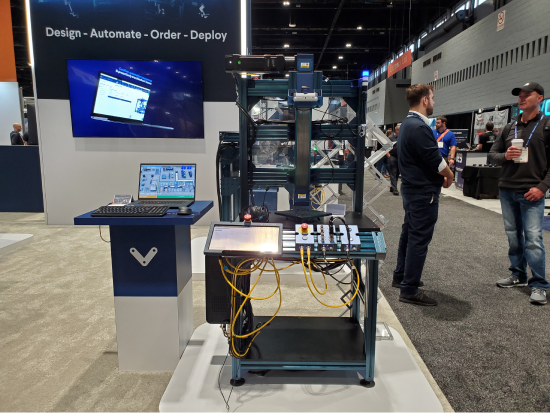 #VentioneBlue throughout FABTECH
Walking the trade show floor, you may have spotted some #Ventionblue! Thank you to these businesses for utilizing Vention in their booths:
Mid Atlantic Machinery: Press Brake Tending Cart & Automated Insertion Machine Cart
Creaform: Inspection Jig
Micropsi Industries: Robot Vision Cart
Digitize Designs: 3D Scanning Jigs
IPG Photonics: Laser Safety Enclosure
Novarc Technologies Inc.: Modular Welding Enclosure
Flexxbotics: Robotic Tending Cart
Welcoming a new era of industrial automation
FABTECH was an inspiring event showcasing the latest innovations in material handling, metal forming, fabrication, and more. We met many high-mix manufacturers looking for accessible automation solutions to improve their productivity and increase profits. Vention appealed to these clients because of our Manufacturing Automation Platform, which combines the power of modular hardware and intuitive software to start automating sooner and more efficiently.
If you could not attend FABTECH 2023 but would like to know more about our products and services, please contact us at marketing@vention.cc.