Vention at ATX West 2023: Thoughts and experiences from our team on the ground
February 14, 2023
|
Quinn Harker
This past week, Vention attended one of the largest West Coast advanced manufacturing events, IME West. With five connected expos from MedTech to robotics and packaging, ATX West focuses on how to better automate manufacturing processes by showcasing the latest automation and intelligent robotic technology to increase efficiency and reduce time, waste, and cost. Leaders across the industry showcased their solutions that overhaul an automation process or help update and automate current manufacturing processes.
At the show, Vention was excited to reveal our newly redesigned booth and exhibition layout. We had four demos showcasing how our manufacturing automation platform (MAP) can help manufacturers automate their factory floors three times faster, with up to 40% less cost. Our demos combined our hardware's strength and modularity with our software's simplicity to demonstrate the full reach of MAP's potential.
Our four demos:
Vention's 2-axis system featuring our new software-assisted deployment solution, MachineCloud
This demo showcased the modularity of Vention's hardware components by creating a self-contained demo inspection station. Pairing it with MachineCloud, our software-assisted deployment solution, users were able to see for themselves the ease at which they can self-deploy and operate their automated equipment.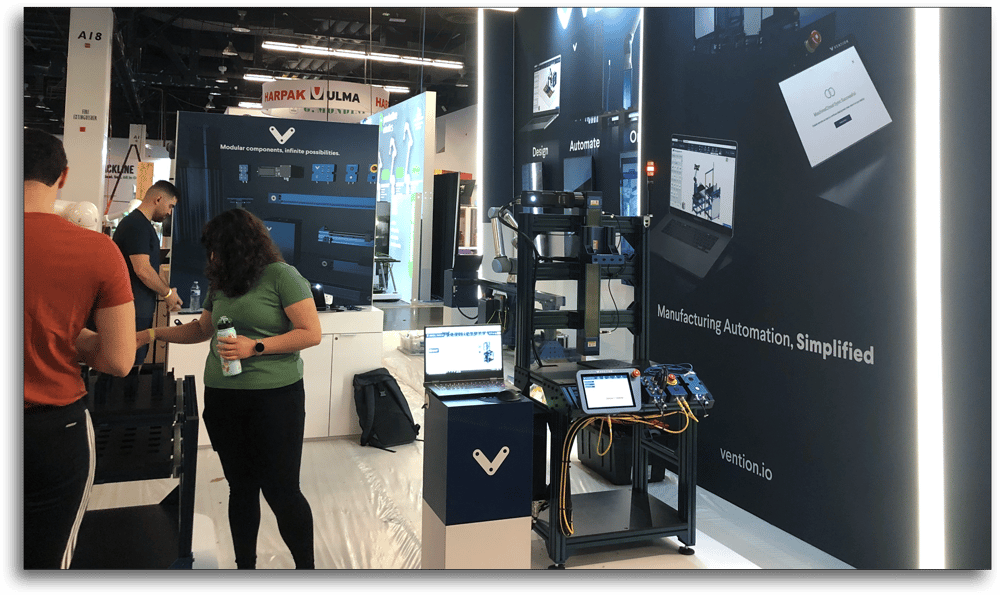 Vention's telescopic lift column with Doosan cobot palletizer
Using our telescopic lift column, the newest addition to our line of linear actuation, we demonstrated how Vention is able to create customizable cobot palletizing cells that can stack pallets up to 2m high. With guaranteed specifications, fast and easy deployment, and factory floor operation with MachineApps, stacking pallets is easier than ever.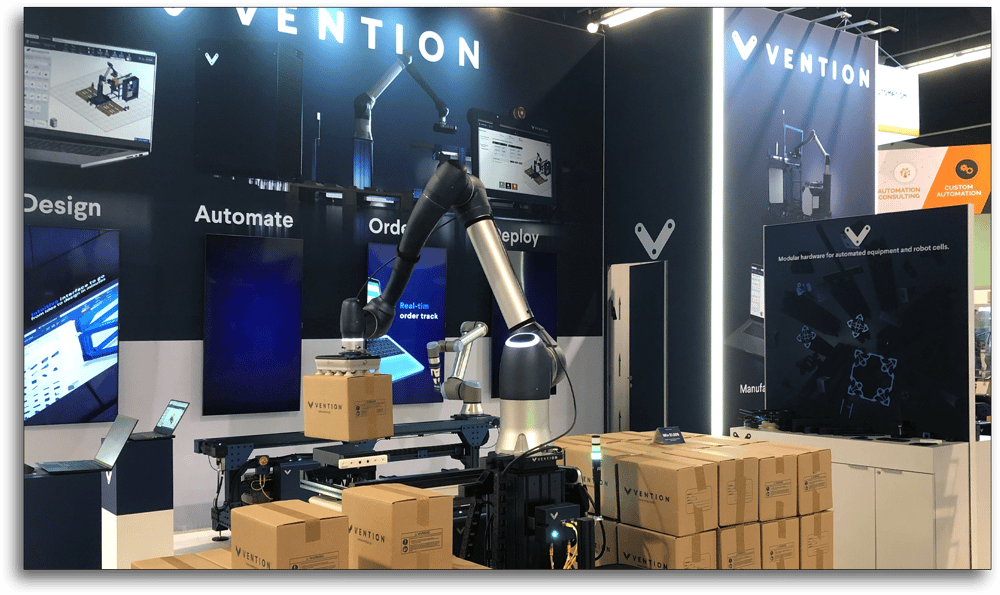 Vention's MachineLogic low-code environment with Universal Robots range extender
Expanding on our tried and true cobot range extenders, Vention demonstrated how you can program your collaborative robot in the cloud using our low-code, robot-agnostic programming tool: MachineLogic for robots. Create programs in minutes and validate them prior to deployment using a digital twin, no advanced coding expertise needed.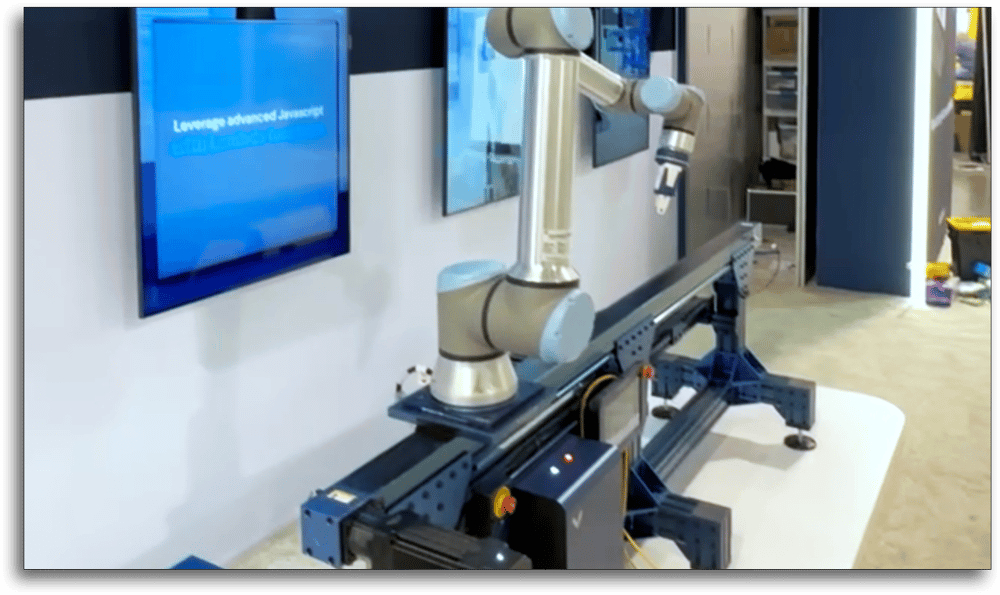 Vention's machine tending cart with FANUC CRX10ia
Featuring our mobile machine tending cart with an adjustable tray system, this cart allows manufacturing floors to accommodate current and future tending. It is designed to fit a wide range of collaborative robots with accommodations locating features and lockable casters, making for an ideal choice for high-mix tending solutions.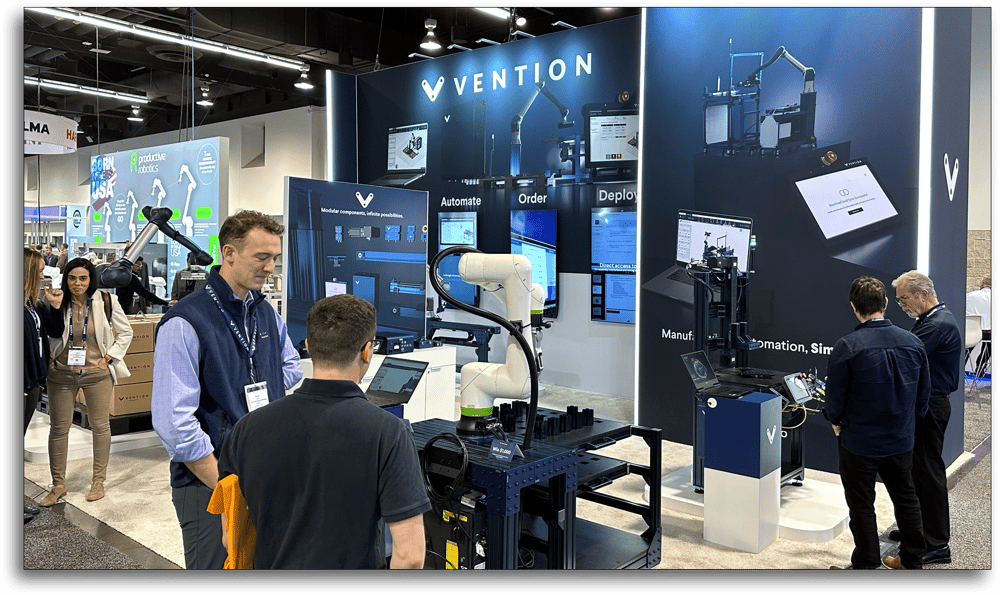 Our democratized approach to industrial automation:
This year, the Vention team was pleased to meet over a thousand automation and robotic experts. For some, it was their first time learning about Vention and our democratized approach to industrial automation. They were impressed with Vention's unique approach to simplifying manufacturing automation through a single, cloud manufacturing automation platform that is unlike any solution on the market.
"Manufacturers were surprised at Vention's horizontal approach from the design to deployment of industrial automation. One of the most interesting added values was for manufacturers to be able to build their machines within an intuitive CAD software with preloaded parts directly from their web browser for free with pricing in real-time. It's a solution that no one had experienced before Vention." - Sophie Ducharme, Brand and Channel Marketing Manager
Industry trends shared by the Vention team:
After talking with so many of you, the Vention team recognized some common industry trends present throughout the event:
Due to COVID-19 aftereffects, manufacturers have increasing demands to automate their production lines in the shorter term.
Integration of vision systems with collaborative robots to enable autonomous bin picking is becoming a more popular automation solution.
Clear and simple ROI justification on collaborative robots in comparison to traditional robots is fueling the market growth and resulting in a highly competitive pool of players.
The increased presence of 5-10kg collaborative robots on display in booths suggests a growing market for this segment's capacity.
Increased focus on upcoming trends such as digitization, IoT, and e-commerce showcase a shift in the market's view of what automation should look like moving forward.
#Ventionblue throughout ATX West:
Shout out to Motion AI, Schmalz, and MSI TEC for integrating Vention into their booths!
Motion Ai & Robot27 Dispense
A Vention cart and display arm for material dispensing solutions.
Schmalz
A Vention mobile robot pedestal demonstrating the various end-of-arm tools (EOAT) manufactured by Schmalz. The foldable legs on the robot pedestal allow for a low footprint during storage and transportation.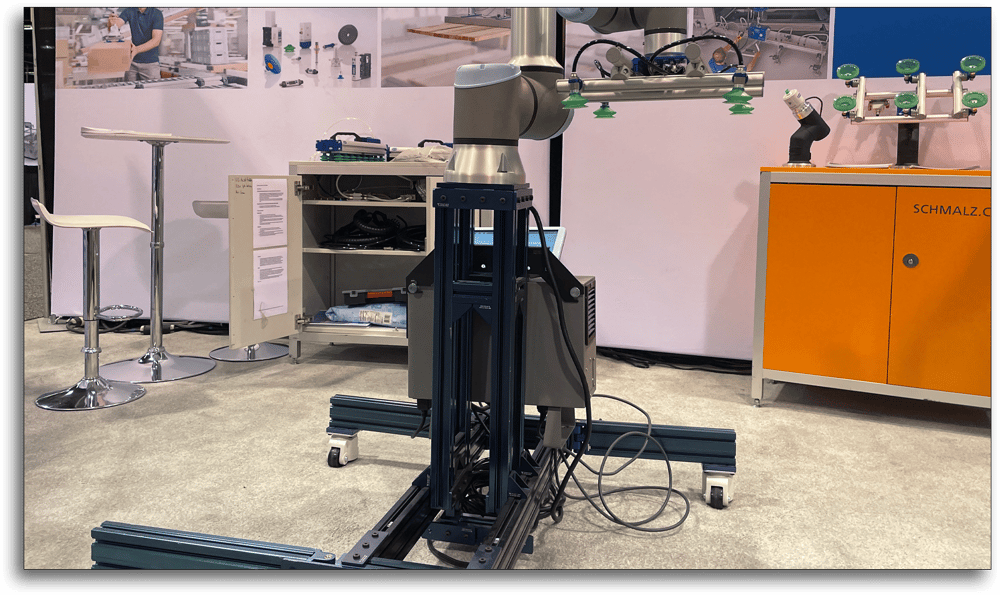 MSI TEC
A Vention robotic tending cart demonstrating the capabilities of a collaborative robot to automate repetitive tasks.