Automating sanding and surface finishing: Increase productivity and eliminate labor shortages
August 31, 2023
|
Quinn Harker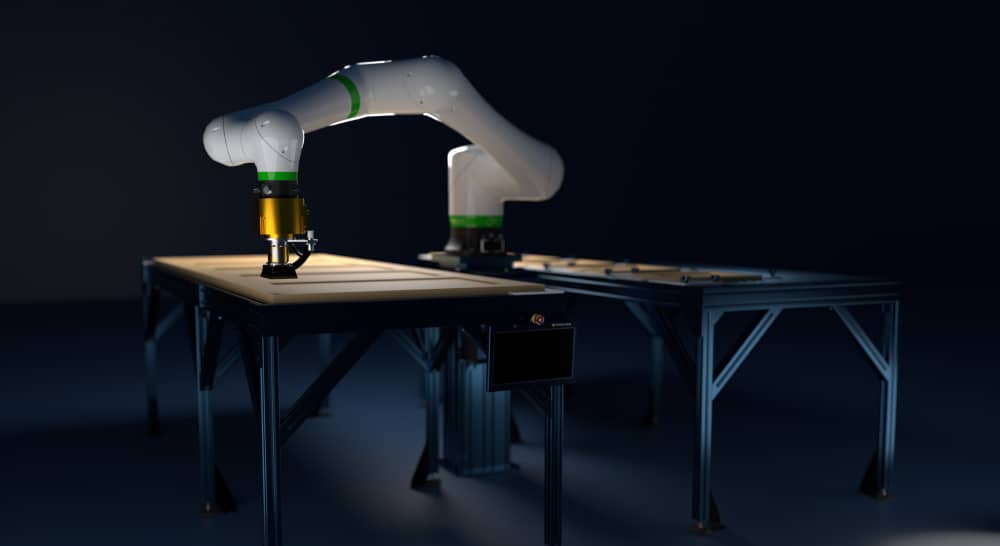 Sanding and surface finishing can be a vital part of the manufacturing process, yet it is a tedious step that demands significant time, focus, and patience from employees. Even the most experienced sanding professionals struggle to achieve consistent results, and the presence of dust poses potential risks to employee health and safety. During the ongoing labor shortage, the task of sanding and surface finishing is further at risk as employees gravitate towards more engaging and safer work. 
Automation can alleviate this manual task and repurpose existing employees to more high-value tasks. Learn how Vention can support you in the automation of sanding and surface finishing.
What is sanding and surface finishing?
Sanding uses abrasives, such as sandpaper or abrasive wheels, to remove material from a surface to create a smooth surface, remove imperfections, or prepare it for further finishing or coating. Surface finishing processes involve applying a range of processes to the material's surface to enhance its appearance, texture, and durability.
Benefits of automating sanding and surface finishing for all manufacturers
Introducing automation to sanding and surface finishing has the following benefits: 
Consistency: Apply the same level of force, speed, and precision each time, resulting in a uniform and predictable quality.
Efficiency: Reduce the need for manual labor and minimize rework, leading to faster and more efficient processing of materials.
Quality control: The addition of sensors and feedback mechanisms monitor the process in real-time, ensuring products meet quality standards.
Employee safety: The dust from sanding and surface finishing can lead to health risks for employees. Automate this dangerous and repetitive task to reduce risk to employees. 
Cost savings: With the right solution, see a strong return on investment due to increased productivity and reduced labor costs.
Automating sanding and surface finishing with Vention
Vention provides a wide range of surface finishing solutions, such as sanding, polishing, and buffing. Our robot-agnostic, small-footprint solution allows you to easily automate this process, avoid reworks, and repurpose employees to high-value tasks.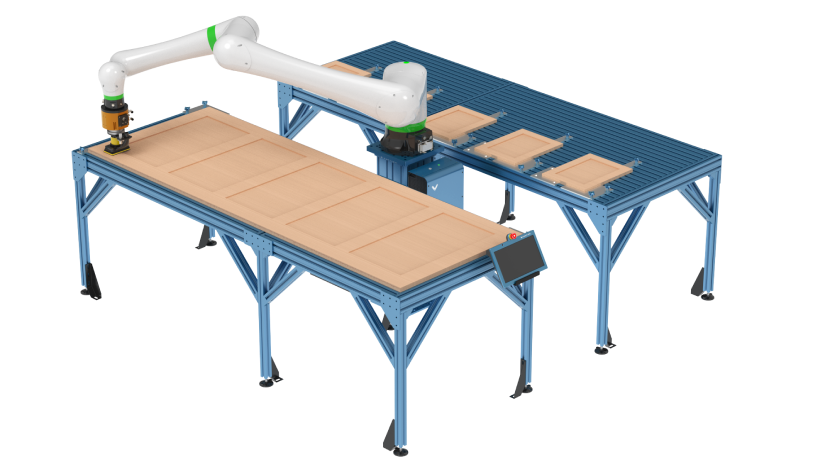 With Vention, experience unique benefits 
Customized configurations: Choose between fixed, extended, and custom configurations. Each configuration is robot-agnostic so that you can use it with your preferred robot brand of Universal Robots, FANUC, Doosan, Kinova, and others. Choose from 1,000+ compatible hardware components to take your solution to the next level. 
Easy to program: Configure the system, set parameters, and run the application with intuitive, code-free software.
Quick payback: With a plug & play solution from Vention, combined with increased productivity and reduced labor costs, see a return on investment of 12 months on average.
Automated sanding and surface finishing in real-life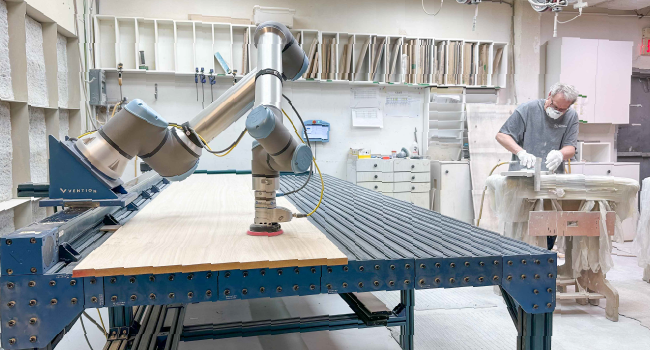 Vention recently published a customer story in collaboration with Classic Woodwork, an architectural millwork company. Classic Woodwork was looking to improve efficiency and struggled to attract talent within the current labor market and worker shortage. They turned to Vention to introduce automation in their shop to alleviate manual, monotonous tasks for their existing talent. Vention's robust hardware allowed the solution to work within a dusty environment with minimal maintenance needed.
Classic Woodwork implemented a Vention sanding application with a Universal Robots UR10e, an enclosed timing belt conveyor, and an OnRobot sander. 
Read the full customer story and watch the video
Support from design to deployment 
Whether you prefer a complete turn-key package or specific hardware kits and components, we have you covered. We provide support at different levels based on your needs for every application you make with Vention. We offer free design help, on-site setup, and Remote Support whenever you need it. Choose Vention for automated sanding and surface finishing.
Questions? Interested in a surface finishing solution for your manufacturing floor? Get in touch with our experts.