A complete list of our Q1 2022 product updates
April 05, 2022
|
Rowan Trouncer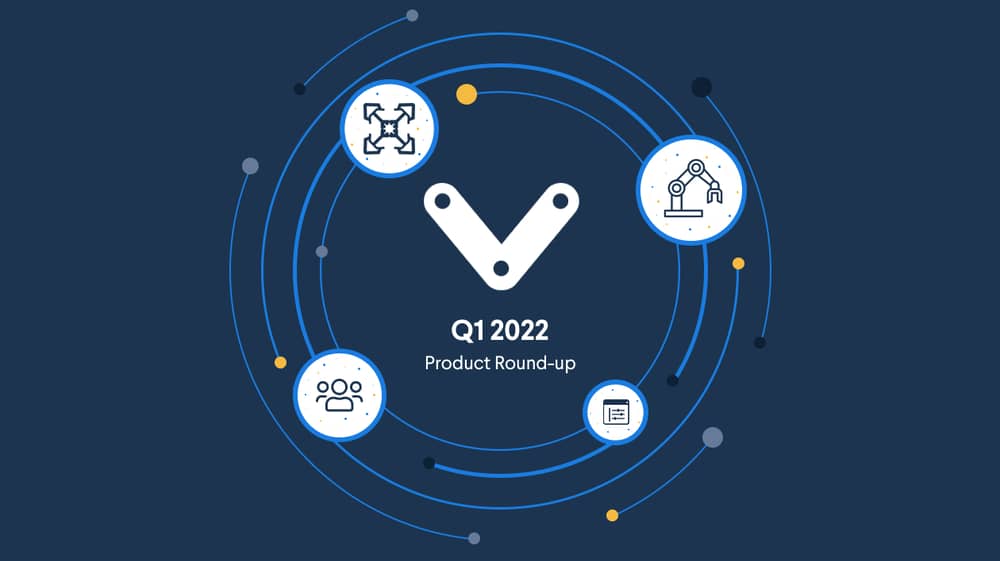 We're always working to make Vention's Manufacturing Automation Platform (MAP) better and easier to use. Here's a quick look at the new partnerships, software changes, and hardware releases from this quarter!
Announcements
Vention strengthens its partnership with UR
Vention and Universal Robots partner for the design and ordering of robot cells online. With code-free programming, real-time pricing, and short lead times, adding a UR cobot to your factory floor has never been easier.
EU Presence
Vention has officially opened our European headquarters in Berlin, Germany.
Global clients already operating on Vention's Manufacturing Automation Platform (MAP) will now benefit from a one-stop shop for all their manufacturing automation needs on both sides of the Atlantic. Vention also opened a new European Distribution Center in Berlin's Mitte neighborhood. Serving hundreds of clients in Europe since 2020, this expansion will enable significantly faster lead times and local assistance from our dedicated team.
Manufacturing Automation Platform
MachineBuilder
With MachineBuilder's four new smart features, it's now easier than ever before to design industrial equipment online.
1. Design Validation
Instantaneously validate the completeness of your design with MachineBuilder's Automatic Design Checker.
With this feature, Vention continues to make industrial design quicker and easier by identifying errors and omissions before purchase. Generate and review design recommendations before applying solutions in just a few clicks.
2. Part Recommendations
The next part you need is only a click away with Vention's new Part Recommendation engine.
Design faster than ever before by adding parts directly from the suggestion interface. With every click, you can now have the next part you need, exactly where you need it.
3. Smart Dimensioning
Design modifications are faster than ever with Smart Dimensioning. Quickly adjust the distance between sub-assemblies and framing elements down to the nearest millimeter.
4. Automatic Panel Creation
Automatically create plastic and sheet metal panels within MachineBuilder. With a few clicks, you can now instantly determine the optimal panel cul-outs and hole locations for your design.
MachineLogic
1. Robot Path Visualization
With MachineLogic's latest updates, you can now visualize your robot's path as you create it.
Commands like open and close gripper, wait for an amount of time, and wait for digital input, can now also be seen on your robot path. Drag and drop waypoints to change the path, with changes reflected in real time.
Hardware & Applications
Belt Rack Actuator
Create custom-length robot range extenders or high-speed pick-and-place machines with Vention's new belt rack actuators.
These modular, plug-and-play actuators deliver fast acceleration, whilst operating at low noise and remaining maintenance-free.
Dive into the details.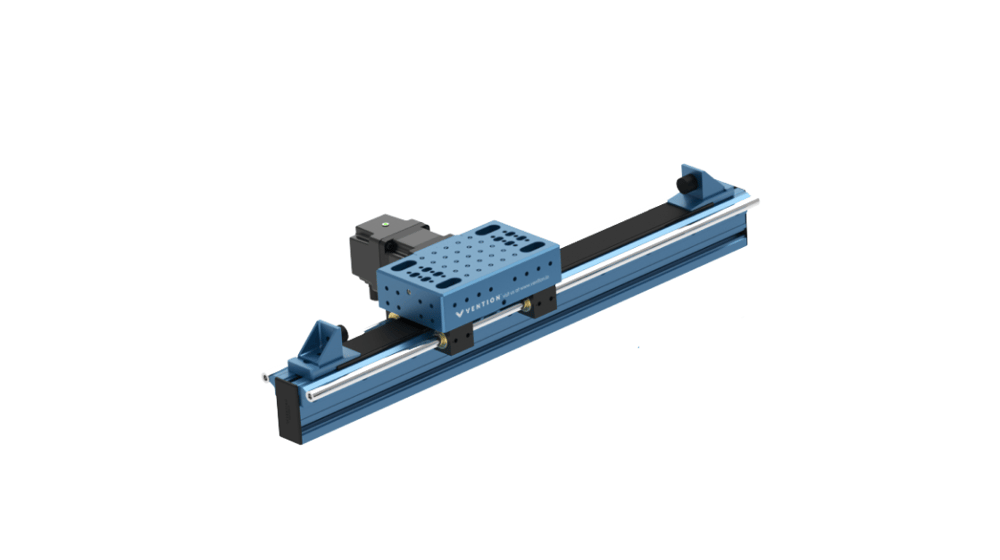 Full Suite of Linear Actuators
Combining modularity and plug-and-play functionality, Vention now has a full range of linear motion actuators for every application.
Vention actuators are the simplest way to add motion to any application. Choose from 6 different types of actuators, configure length, sensors, gantry motors, and bearing options to meet your needs.
Pick & Place
Tailor a pick & place machine that meets your needs with Vention's robot application kit.
Quickly customize your Vention's robot cells online, deploy code-free, and receive assistance from our integration coaches.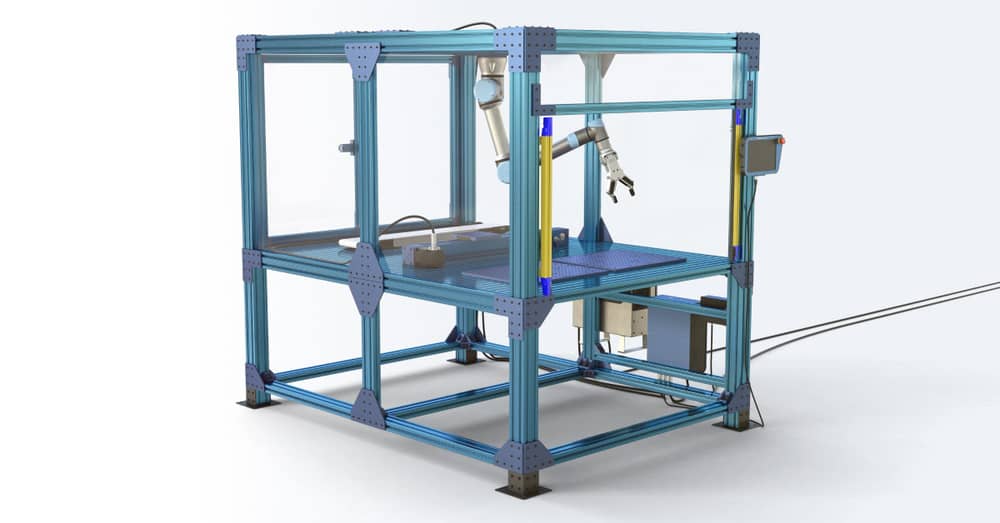 Community & Education
Sager Food Products - Customer Story
Sager Food Products, a leading packager of vegetable oils, was looking to improve productivity but faced similar labor shortage struggles as seen elsewhere in the industry.
In Vention's latest customer story, see how they overcame this challenge, improved productivity, and reallocated employees to higher-value tasks by leveraging Vention's manufacturing automation platform.
Cobot Palletizer Webinar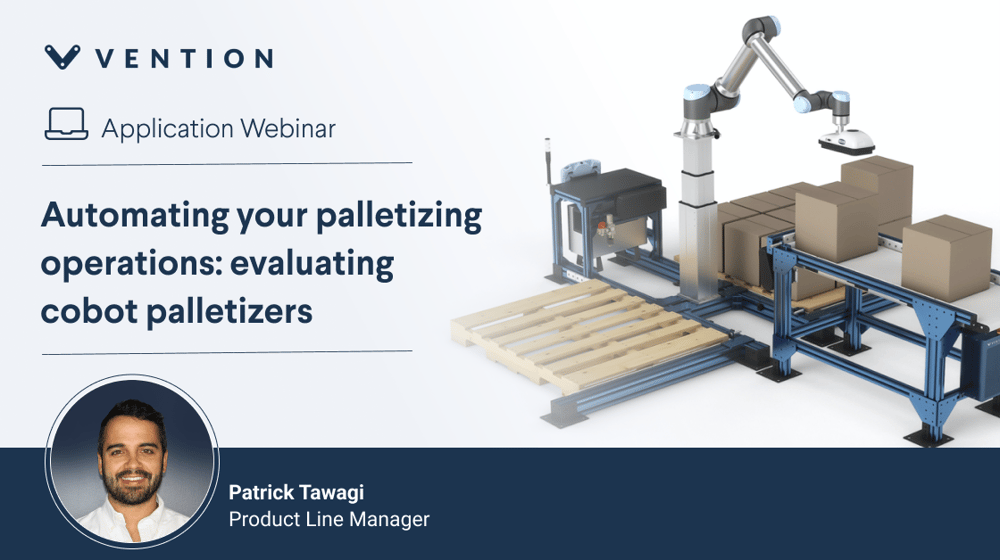 This quarter, Vention's Patrick Tawagi hosted a webinar to explain how to evaluate the right cobot palletizer for your operations.
In this webinar, participants learned:
Different types of palletizers
Benefits of cobot palletizers
Return on investment considerations
MachineBuilder Webinar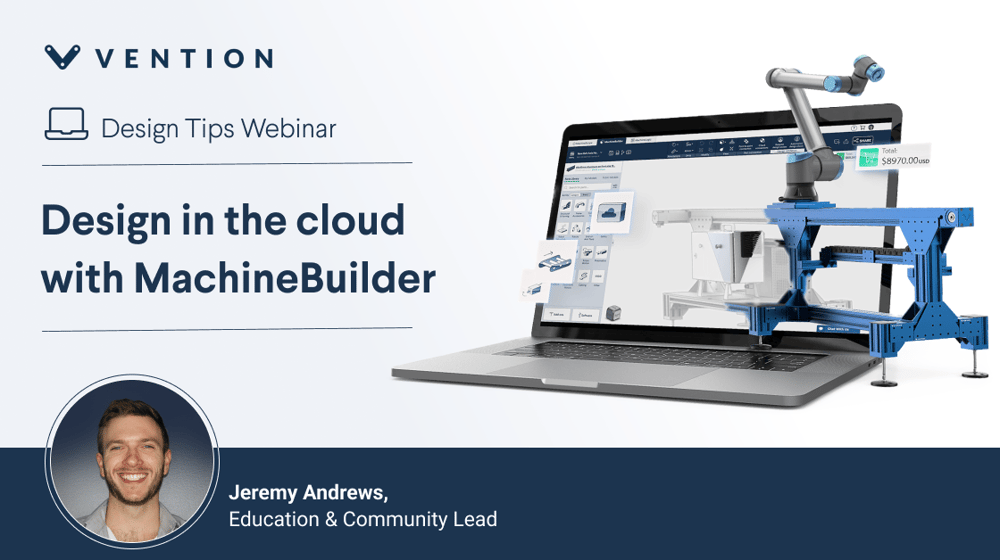 Vention's Jeremy Andrews also hosted a webinar to demonstrate the power of Vention's 3D design platform.
In this webinar, Jeremy taught viewers how to:
Design custom equipment using 1000+ modular parts
Leverage built-in smart design tools
Receive feedback from the InVention community
Stay up to date
That's a wrap for Q1! For content that dives more deeply into our biggest launches, make sure to stay up to date with our blog and LinkedIn.