Five rising trends in industrial automation to look for in 2023
January 03, 2023
|
Quinn Harker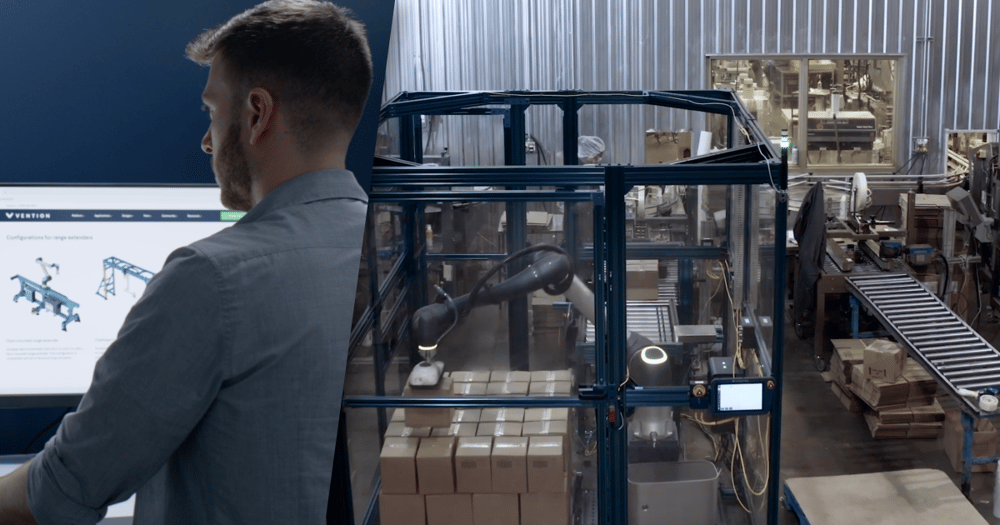 As the year begins, Vention has identified five rising trends we predict will impact many manufacturers, further accelerating the adoption of industrial automation.
Trend #1: Rise of DIY automation for withstanding a recession
In the manufacturing industry, labor costs continue to rise while the threat of a global recession looms. The U.S. Bureau of Labor Statistics reports that "labor costs in the total manufacturing sector increased 5.8% in the third quarter of 2022, reflecting a 2.7% increase in hourly compensation and a 2.9% decrease in productivity." This suggests that in 2023, manufacturing will continue to face additional macroeconomic pressures, forcing manufacturers to look for cost-cutting opportunities.
Manufacturers may feel that the answer to cost savings is to reduce headcount, but many are reluctant to do so because of the effort and cost it takes to rehire when demand increases again. So how can manufacturing leaders withstand these pressures in 2023? Through do-it-yourself (DIY) automation to empower existing employees to learn and drive industrial automation projects.
DIY automation uses a single digital platform to support the seamless integration of automation design and apply it directly on a manufacturing floor. With the digital workflow provided by Vention, any manufacturer can self-serve for design, automation, order, and deployment. No longer are there unresolved compatibility issues, leap-of-faith design choices, and overlooked laws of physics because Vention's intuitive system proactively identifies and resolves those issues along the way. This allows users to feel confident in their designs and shrinks the time and cost associated with completing a project by up to 40%.
By empowering existing employees to learn and drive automation projects during a time of recession, operations can be prepared with the systems and employees in place to adapt once demand increases again.
Trend #2: Adoption of digital twins to evolve in Industry 4.0
As manufacturing technology evolves and digitizes, the concept of digital twins is growing in appeal to manufacturers who want the ability to create more accurate processes through early issue detection and predictable outcomes. According to Deloitte, the play between a digital model and a physical object corresponds with the rise of the "fourth industrial revolution" or "Industry 4.0," which is rapidly becoming the new standard of excellence across best-in-class, large-scale manufacturing.
Digital twins have been largely inaccessible for many small-to-medium businesses because of the high costs and the availability of internal resources. However, due to recent advancements in cloud computing, storage, and cost-efficiencies, many businesses see the increased business value of the digital twin that manufacturers at any scale can no longer ignore. Key business values for digital twins include improved quality, sooner defect detection, increased performance of manufacturing equipment, and reduced overall cost and time to create a new product. All these opportunities are fast becoming basic competitive requirements to remain a sustainable manufacturing business in the modern economic climate.
Heading into 2023, Vention believes the time is now for digital twins to become the next table-stakes tool for small and medium-sized businesses.
Allied Market Research reports that the global digital twin industry was valued at $6.5 billion in 2021, and is projected to reach $125.7 billion by 2030, growing at a CAGR of 39.48% from 2022 to 2030." Despite this large growth of digital twins, not every digital twin solution is created equally. Vention's ecosystem automatically creates a digital twin with each design. Our technology was specifically designed to provide near-flawless accuracy on the mechanical and electrical levels, leading to better performance and end results. Within the next year, Vention's digital twin is uniquely positioned to achieve near-flawless dynamic accuracy as well.
Trend #3: No-code & low-code automation for the high-mix manufacturer
As we enter Industry 4.0, many sectors are seeing the rising benefit of moving towards no-code and low-code solutions. In 2021, Forrester saw a 15% rise in the low-code market, resulting in low-code platforms accounting for 75% of application development in 2022 (up 44% compared to 2020). In industrial automation, no- or low-code platforms allow individuals the ability to automate and deploy automated equipment with little to no coding experience. This eliminates the need to recruit and hire more developers, who are scarce in an industry already struggling to find specialized labor.
No- and low-code platforms also allow manufacturers to evolve as their demand changes. Because automation sequences are built without complex coding, anyone with applied manufacturing knowledge can go into the platform and adjust the floor's automation output or add or remove new applications.
In Vention's MachineLogic, the intuitive interface allows users to program, simulate, and deploy industrial automation directly from their web browser, with no coding required. The addition of no- and low-code platforms like MachineLogic further democratizes industrial automation, making it more accessible to the high-mix manufacturer.
Trend #4: Upskilling & automating for increased retention
One effect of the growing labor shortage is an increased skills gap among employees. PwC reports that "manufacturing executives are already feeling the impact of the talent shortage and anticipate that the skills gap will increase as much as threefold over the next three years, largely due to the time required to fill skilled positions."
In a time when skilled labor is difficult to hire and retain, automation provides a solution. In a study by McKinsey & Company, operationally intensive sectors have 1.3 times the automation potential of other sectors. In manufacturing specifically, 58% of work activities could be automated. Although easier said than done, upskilling an existing labor force is important to endure in Industry 4.0. When employees are upskilled and automation is performing the labor-intensive and redundant tasks of a manufacturing floor, the people who used to operate the manufacturing floor are transformed into the people who now design the floor.
Trend #5: Implementing plug-and-play automation to prepare for the unknown
As demonstrated by the COVID-19 pandemic and recent economic uncertainty, manufacturing is highly susceptible to external forces and companies should be prepared to adapt to varying demand levels. On the rise in manufacturing is plug-and-play automation with modular components, allowing a company to scale its production or switch between producing a range of products as demand changes. According to Process Technology, plug-and-play automation can result in "up to 40% faster time to market and up to 80% faster rearrangement of production equipment," giving manufacturers the ability to start small, test quickly, and scale just in time for whatever comes their way.
Plug-and-play automation is made possible by LEGO-like, modular components with proven capability to all work together. On Vention's platform, over 1,000 LEGO-like automation components with plug-and-play functionality can be adapted as demand changes.
For small-to-medium-sized businesses facing unknown demands and looking to automate with lower risk, lower cost, quick deployment, and faster ROI, plug-and-play automation is critical.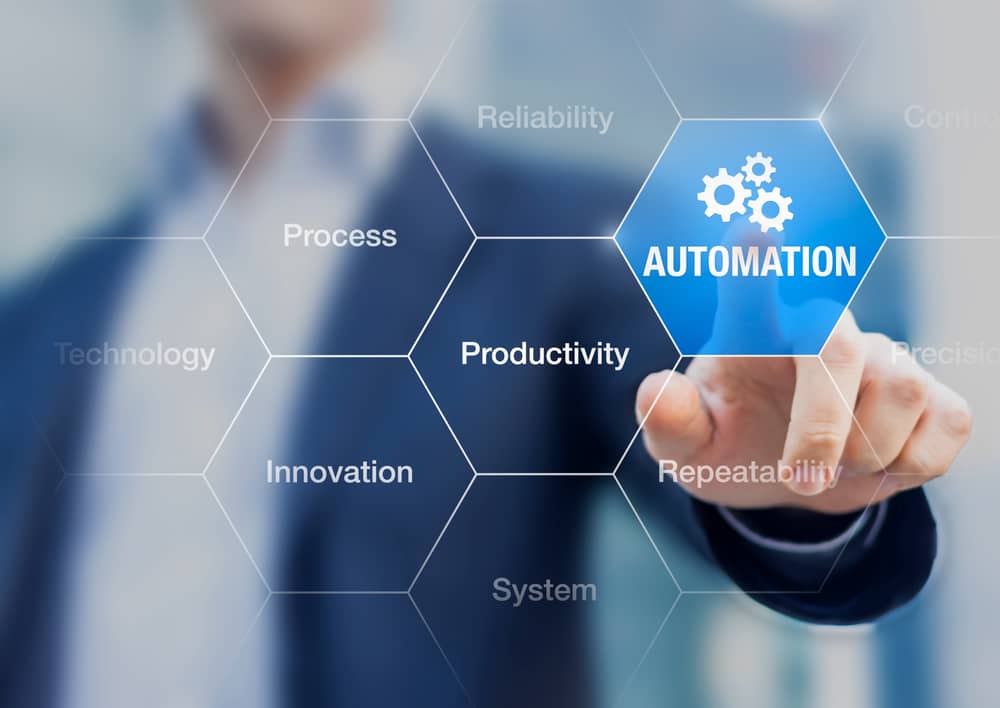 Conclusion
With the rise of Industry 4.0, there are more advancements than ever before for small and medium-sized businesses to profitably automate their manufacturing floor and withstand growing macroeconomic pressures. The strategic importance of industrial automation is one that can no longer be ignored, and in 2023, we believe these five trends will drive more manufacturers to adopt automation on their factory floors.
Vention has the solutions needed to support manufacturers in adopting industrial automation. Begin designing today or talk with our experts to learn more.