Introducing Remote Support: The on-demand industrial automation support you've been looking for
May 31, 2023
|
Quinn Harker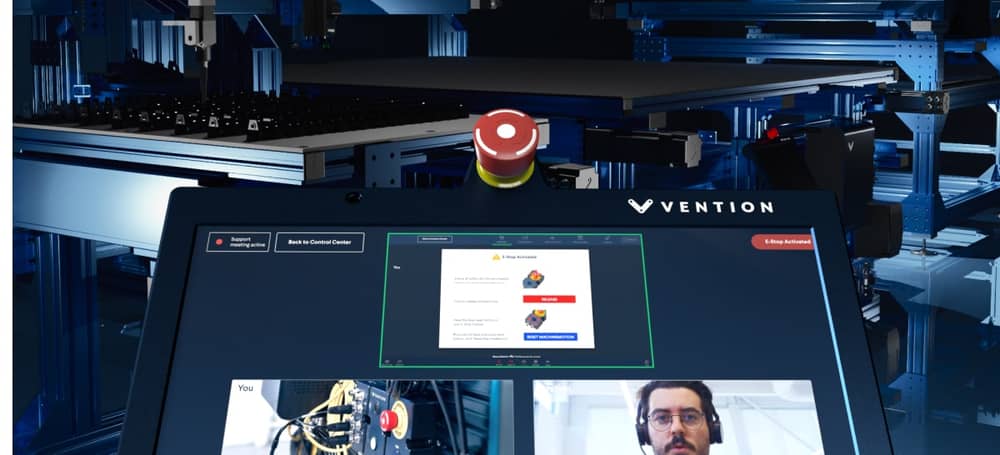 In today's fast-paced and competitive manufacturing industry, when automated machines are not working to expectations or breaking down, manufacturers can lose days, weeks, or even months of production time having technicians fly-in to try to identify and resolve the issue. What if we told you there was a way to avoid unplanned downtime and get most issues resolved on the same day?
Introducing Remote Support from Vention.
Supported by our 3rd-generation pendant technology, Remote Support connects you to our Customer Success team for on-demand automation and deployment support at the click of a button.
Pendant V3 features:
Remote Support features:

Built-in, 5 MP front and back-facing cameras
Enhanced ergonomics with a removable handle and gorilla glass touchscreen
Oversized 13.3" OLED touchscreen display
Wi-Fi and Ethernet connectivity
Integrated E-stop

Unlimited, on-demand access to Vention's Customer Success Team
Get connected within 10 minutes of requesting support
Communicate via video, voice streaming, and instant chat
Screen share your program and machine configuration for quick issue resolution
Unparalleled accessibility and convenience
Vention's Remote Support empowers you with high-priority automation and deployment assistance, anytime, anywhere. Through Vention's pendant, get access to on-demand troubleshooting and issue resolution, reducing downtime and improving overall productivity. With built-in front and back-facing cameras and Wi-Fi connectivity, initiate remote calls within your facility, enabling Vention's experts to visually inspect your machine configurations in detail. This seamless connection provides real-time insights and recommendations for instant changes, enhancing efficiency and minimizing disruptions.
Expertise at your fingertips
With Remote Support, no matter where you are in the world you can reach our Customer Success Team within 10 minutes of requesting support*. This rapid access to experts who can resolve your issues ensures that your problems and concerns are addressed promptly, saving valuable time and avoiding costly delays. With custom technical support just a call away, gain confidence in your machine deployment and operation, knowing you have a reliable support team available when needed.
Enhanced efficiency
Vention's Remote Support goes beyond just troubleshooting by assisting you in resolving issues on the spot. By leveraging screen-sharing capabilities, you can grant our experts a comprehensive view of your machine configurations and programs. This feature facilitates collaborative problem-solving, as Vention's Customer Success Team can identify areas for improvement, suggest instant changes, and provide real-time guidance. With more than 16,000 pieces of equipment deployed with a Net Promoter Score (NPS) above 75, Vention's customer success team consistently provided service levels above 96% of responses within the promised time. The seamless sharing of information enables a higher level of efficiency in issue resolution, reducing the time required to identify and rectify problems.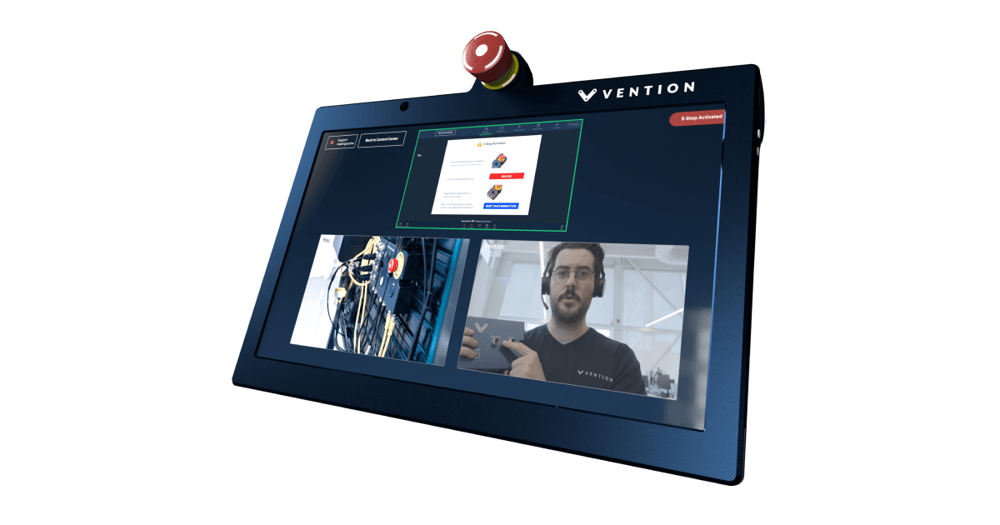 Decrease your machine's downtime and increase productivity with Remote Support, powered by Vention's Pendant V3. Talk to an expert to get started today.
*Pendant V3 is required to access Remote Support. Remote Support is a subscription-based service and is offered from Monday - Friday, 9 AM to 5 PM ET / CET. For more information about pricing, visit our subscription page.