Datasheet
Updated: Friday, February 3rd 2023
Pallet Chain Conveyor
Overview
This document will outline the applications and technical specifications of the chain conveyor. Information about the configuration, load, speed, and mounting will be provided. Also, it gives you information about the types and sizes of the pallets which are compatible with this chain conveyor.
Applications
The most popular application of this type of conveyor is pallet-conveying. It can transport stacked pallets as well as fully loaded pallets. It can also be used for other heavy-duty applications where you need high drag force for transporting your loads. You can place several of these conveyors beside each other to convey your pallets to your desired destination in your application.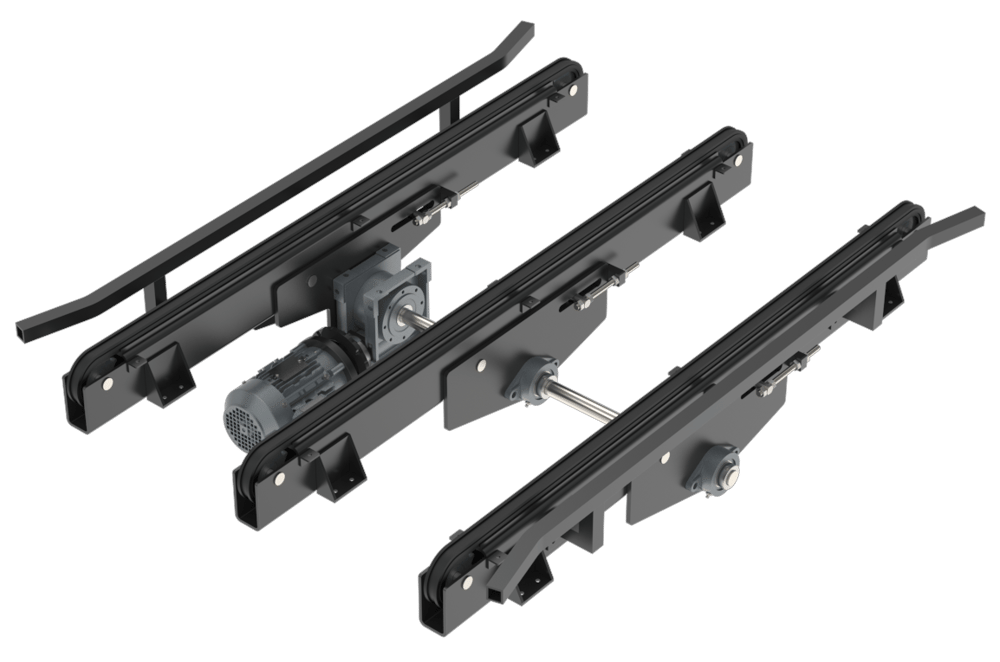 Technical specifications
This chain conveyor can have 2 different configurations, one with 2 chains and the other one with 3 chains which leads to better support and pulling of the pallets. Pallets can be placed on the top of the chains by a lift truck and the chains can drag loads up to 1500 kg. The chain speed can be adjusted by the VFD of the motor and it can vary in a range between 15 mm/s to 150 mm/s. For better power transmission, the tension of the chains can be adjusted by easy-to-use tensioners. You can mount this chain conveyor on Vention's extrusions by connecting its gusset to our Aluminum extrusions. The following table provides a list of specifications for the chain conveyor.
| Specification | value |
| --- | --- |
| Max load (kg) | 1500 |
| Min speed (mm/s) | 15 |
| Max speed (mm/s) | 150 |
| Compatible with GMA & CHEP pallet (inch) | 48L x 42W |
| Compatible with this pallet (inch) | 42L x 42W |
| Compatible with Euro pallet (mm) | 1200L x 800W |