Introducing automation to remove repetitive tasks
Spector & Co. introduced their first collaborative robot to remove the repetitive task of machine tending bottles for their laser engraving machine.
Increased production to 60-100 bottles per hour
Timely troubleshooting and issue resolution
Story Highlights
Project highlights
Spector & Co. had all their questions answered from Vention in just a couple of hours, avoiding critical production downtime.
As the company's first entry into automation, the machine's ease of use allows anyone to operate it and make programming changes.
Repetitive, dull tasks were removed, and qualified workers were reallocated to more fulfilling tasks.
Automating machine tending allows for more accurate and predictable production schedules, increasing the company's efficiency.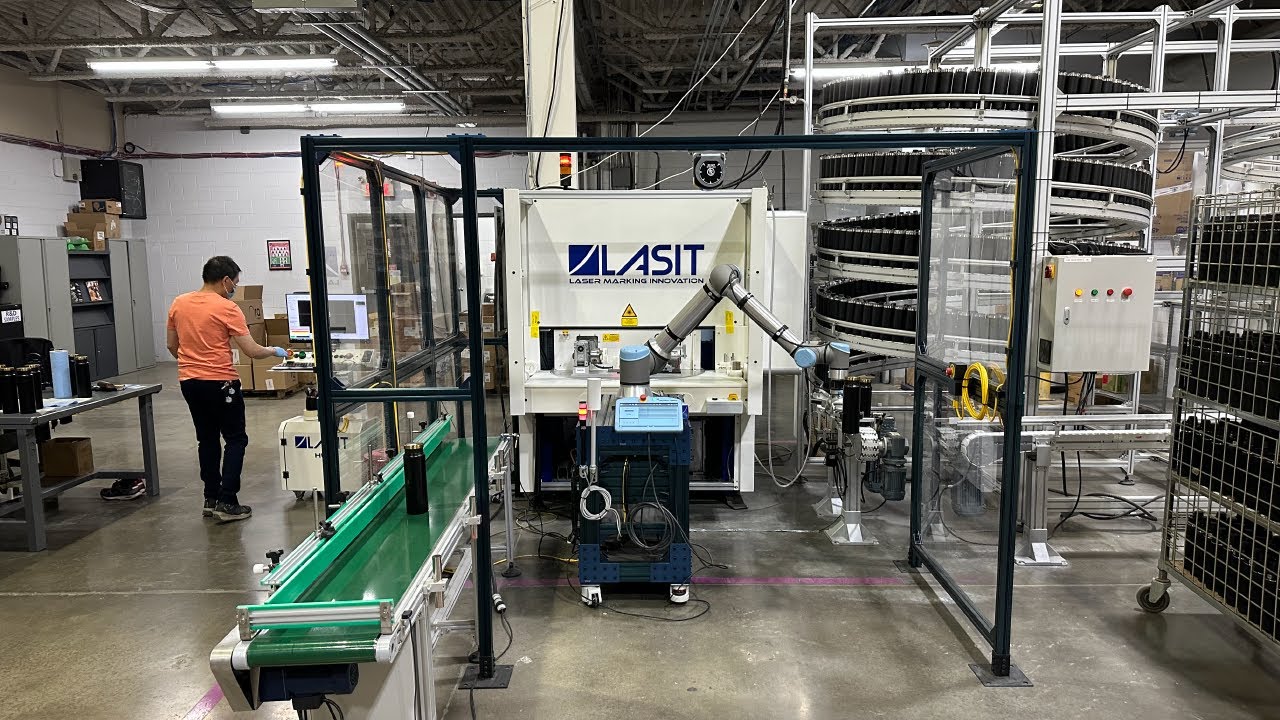 The Problem
Reduce repetitive tasks to attract and retain employees amidst the labor shortage
Spector & Co. was looking to remove repetitive and dull tasks from their manufacturing floor so employees could be reallocated to more fulfilling tasks. They also wanted to improve production by introducing more efficient processes. Spector & Co. knew that automation was the solution to their problems, but with no prior automation experience, they weren't sure where to begin.
"Vention really made it simple for us to get in our first robotic project. Their involvement and their guidance helped us implement this new project at our facility. We are really looking forward to working with them on future projects as opportunities grow.."
The Project
A robotic machine tending application with a Universal Robots UR10e
After learning about Spector and Co.'s operation and visiting their factory floor, the Vention team identified machine tending as an easily automated task that would see a strong return on investment, improve production efficiency, and reallocate employees to more fulfilling tasks.
 
Vention deployed a machine tending robot cell with a safety enclosure and area scanner in just a few weeks. The Universal Robots UR10e, the OnRobot dual-gripper, and the custom-built cart with locating pins have a very small footprint, making this solution ideal for a flexible production line like Spector & Co.'s.
The Results
More fulfilled employees, greater productivity, and improved production predictability
Spector & Co. was able to reallocate qualified workers from manual machine tending tasks to more fulfilling work. The machine designed on Vention is intuitive enough for anyone to operate and make programming changes, so no advanced automation experience is required. The operator's time has been freed up to open, pack, and set up the products and perform quality checks on the produced goods resulting in greater productivity.
 
With precise, standardized settings, the output control was a welcome byproduct of adding automation. Having visibility into the production capacity and output at all times, Spector & Co. now has a more consistent production, which allows for improved production capabilities.
Project Specs
Robot arm
Universal Robots UR10e
End of arm tool
OnRobot dual-gripper
Safety
Enclosure and area scanner
Application
Machine tending