XL Extrusions: A modular extrusion kit for the next generation of heavy payload cobots
August 23, 2023
|
Quinn Harker
Vention's newly introduced XL extrusions are the first modular extrusion kits specifically designed for the next generation of heavy-duty, 20-30 kg cobots. These 247.5 mm x 247.5 mm cross-section extrusions rank best-in-class in terms of structural rigidity, straightness, and precision with their double wall design.
The XL extrusions are indispensable for large structures that require reinforcement and bracing. See all the Vention Official designs that utilize XL extrusions, including an overheard 7th axis, a cartesian system, and more. 
Our largest extrusions yet
When designing large structures using standard extrusions, manufacturers are forced to do heavy reinforcing and bracing, which often leads to longer assembly times and issues with alignment. To solve these issues, Vention has expanded its extrusion ecosystem to include 247.5 mm extrusions, our largest extrusion yet. 
The XL extrusions effectively reduce the complexity and the number of parts used in heavy-duty structures. Although small extrusions remain a possibility for building these structures, they require heavy reinforcing and bracing, which leads to a longer, more complex assembly process. 
High-level benefits of XL extrusions include: 
Double wall design for extra rigidity
Half a metric ton of payload capacity 
Floor anchoring plate with built-in levelling features
Smart assembly plates with leveling feature to ensure perfect alignment of top extrusion
Direct installation of peripherals such as actuators and controllers  
Simple and highly rigid structure designed with only a few parts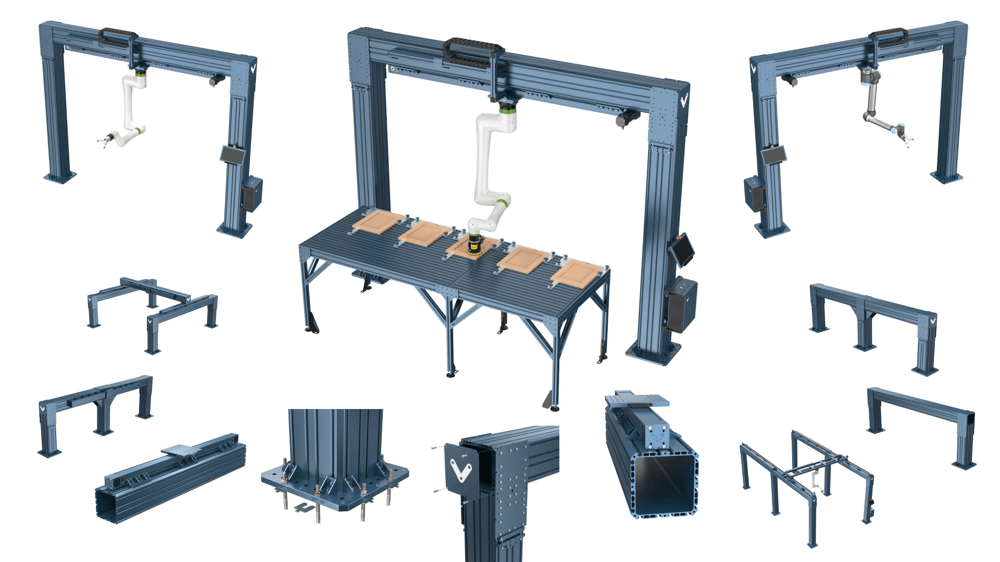 See the full XL Extrusion Ecosystem
Calculating your machine's strength
Before purchasing a heavy-duty application such as an overheard 7th axis or cartesian system, it is important to calculate your machine's strength, rigidity, and friction joint capacity. To simplify these calculations, we have created a Deflection Calculator and a Joint Friction Calculator for you to use. 
Deflection Calculator
Determining your machine's strength and rigidity is easy with Vention's t-slot aluminum extrusion deflection calculator. Simply select your extrusion profile, load distribution, and applied forces to get instant results for stress, deflection, and safety factors.
Friction Joint Calculator 
Many joints made with extrusions rely on pure friction joints. Determine the load capacity of a joint fixed in place by pure friction by specifying the installation torque of the bolts and the number of fasteners in pure friction.
Try the Friction Joint Calculator
More information and resources
For detailed information about structural joint design, mounting Vention actuators, assembly instructions, and installation procedure check out our 247.5 mm Extrusion Ecosystem Tech Doc.
Questions about XL extrusions? Contact our experts.