Why now is the time for full-factory automation
December 22, 2021
|
Rowan Trouncer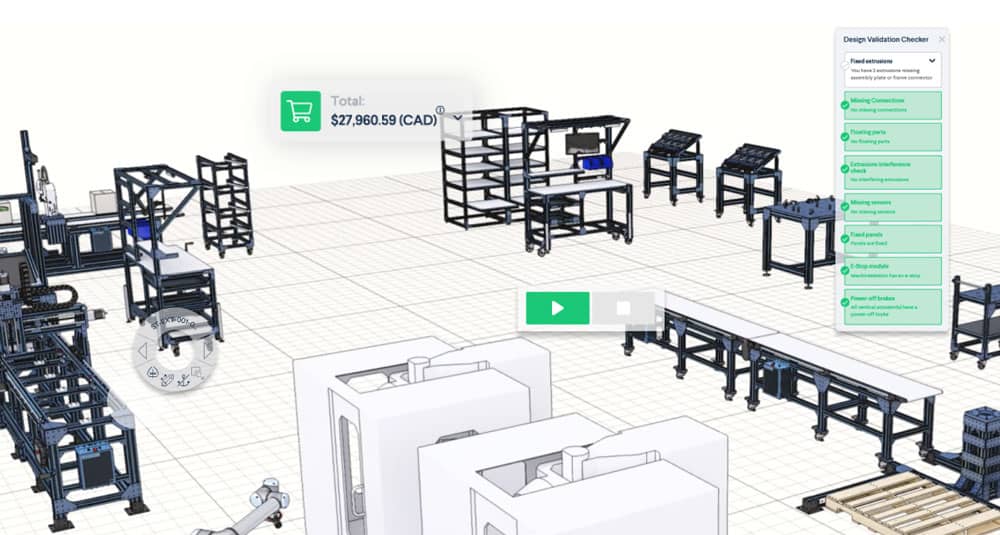 Despite the pandemic, industrial automation flourished like never before in 2021. With record numbers of new robot cells and stellar growth figures across the industry, manufacturers strongly affirmed their desire to bring their shop floors into the future of manufacturing.
In talking with thousands of clients and partners, we've identified core trends that are currently driving the growth of industrial automation. Below is our top list for this year.
Short- and mid-term trends driving the adoption of industrial automation
1. Re-shoring production to avoid global trade risks
Covid-19 had a severe impact on global trade. Global merchandise trade declined by 14.3% in Q2 2020, the largest ever quarter-to-quarter drop in history, with over 80 countries imposing export prohibitions in response to the pandemic.
While US-China trade relations were already strained following President Trump's efforts to reduce the US trade deficit, the pandemic reinforced a protectionism mindset and the desire to return manufacturing to US soil. Moreover, for US manufacturers, the economics of offshore production came into question as labor inflation in China continued to rise.
China's societal shift away from low-cost exports and towards domestic consumption meant workers demanded higher wages and costs flowed through to manufacturers. This structural shift in the Chinese economy, along with US trade policy and the closure of global trade routes, has led two in three American manufacturers to investigate re-shoring production through innovative and cost-effective technologies.
2. Labor shortage in manufacturing
As the pandemic spread, increased infection risks at worksites plus reshoring plans combined to create a global shortage of workers. The labor shortage was felt across all sectors, though it was more pronounced for manufacturing, as plant shutdowns and raw material shortages had forced workers to relocate to other industries in search of work. Even those that retained their jobs started to look elsewhere. In the US alone, 4.3 million workers resigned in August 2020, largely in search of better pay and more flexibility.
At the same time, the desire to reshore operations also drove up demand for local workers, further contributing to the labor shortage for manufacturers. To counteract these changes, manufacturers are turning toward developmental opportunities to attract new talent. As automation becomes more widely adopted amongst manufacturers, factory workers now have the opportunity to be reskilled as machine operators and assemblers.
3. Higher labor costs in manufacturing
The labor shortage meant that manufacturers had to compete for a pool of fewer and fewer workers. This labor supply constraint put further cost pressures on manufacturers as wages continued to rise. Despite manufacturers passing some of these costs onto consumers, a portion had to be absorbed.
To regain this lost margin, manufacturers have embraced automation and new technologies. In the past, increasing production capacity meant adding new workers, but now the same improvements can be gained through investing in industrial automation. Since demand for manufactured goods soared during the pandemic, a return on investment for these pieces of equipment was easier to come by.
4. Global logistic disruption
Government-imposed lockdowns reduced people's opportunity to spend on services (such as cultural activities and restaurants). Many turned to online shopping, which contributed to an already surging demand for Chinese manufactured goods. However, where once the underutilized hulls of passenger planes served as a means for international cargo freight, the closure of internal borders and grounding of flights created an initial loss of approximately 80% of global capacity. The reduced air cargo capacity forced many companies to turn to sea freight and use less-than-full containers to speed up deliveries.
The spacing inefficiencies associated with these decisions led to a global container shortage and ultimately, port congestion, as more containers were being used to carry fewer products. This mismatch in supply and demand for sea freight led to a spike in pricing, with manufacturers needing to find ways to offset further costs. This reality is now causing manufacturers to accelerate their re-shoring plans, amplifying both the labor shortage and wage growth trends described above.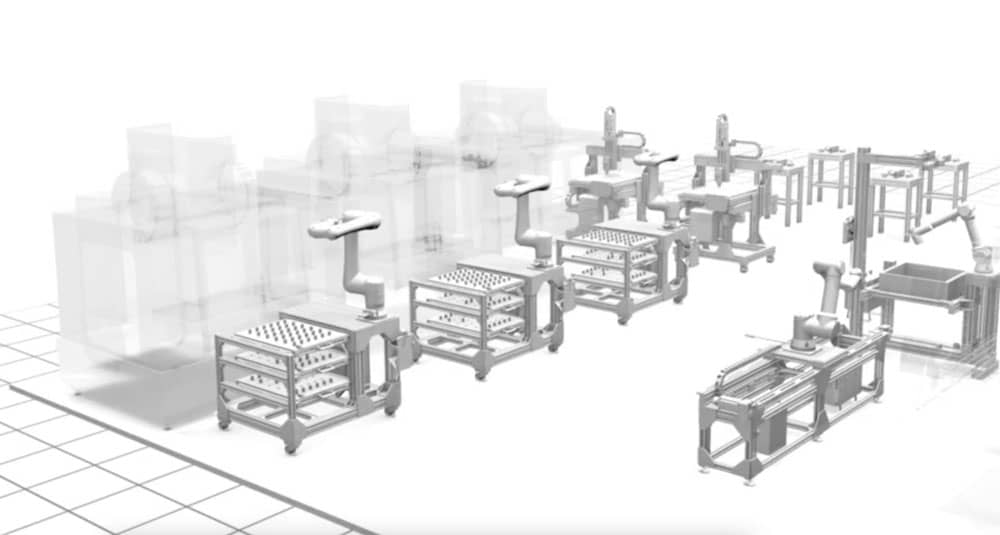 Long-term trends driving adoption of industrial automation
5. Faster industrial automation deployment methods can help match shorter product lifecycles
Manufacturers' profitability has always hinged on product lifecycles. The opportunity to gain a return on investment for manufacturing equipment is restricted to a narrow window that encompasses product development, equipment setup, production, and the ultimate sale of goods. However, as product lifecycles continue to shrink, so too does this window. The automotive industry's product lifecycles, for example, have decreased by 12% since 1990. Product lifecycles have declined across all manufacturing sectors, which means there is now even less time available to design, deploy, and depreciate equipment.
If manufacturers want to recoup their capital expenditure costs, they must right-size their equipment for their expected product lifecycle. To do so, manufacturers will continue to look to emerging automation technologies and innovative deployment practices to reduce initial capital investment and shorten the deployment cycle.
6. Upskilled employees are more likely to stay with their employer
Labor shortages have meant that staff retention is once again a priority for manufacturers. The competition for labor means manufacturers must offer more than simply job security to retain employees. Fortunately, the democratization and wider adoption of industrial automation have given manufacturers a new way to promote employee development. Staff that once performed repetitive manufacturing jobs are being retrained to set up and operate machines, improving both their job satisfaction and earnings capacity.
However, this strategy is only possible to implement through democratized industrial automation practices, like the use of a manufacturing automation platform (MAP). MAPs allow industrial automation equipment to be designed and deployed quickly and simply, significantly reducing the risk and cost associated with large-scale capital outlays. Small to medium manufacturers will likely continue to leverage MAPs to rapidly deploy automated equipment and begin these upskilling projects sooner rather than later.
7. The "Amazon era" has raised everyone's expectations of e-commerce
Amazon revolutionized consumers' expectations regarding speed, ease of use, and convenience in e-commerce. Now, most consumers expect the same online experience from every company and industry they engage with online. As more and more manufacturers look to industrial automation to gain a competitive advantage, they too will expect the same e-commerce experience. Waiting several months for custom equipment to arrive only delays deployments, adding costs to projects and putting ROIs under further pressure. In the Amazon era, even industrial automation customers expect top-notch e-commerce experiences.
Manufacturing automation platforms (MAPs) allow custom machinery to be dispatched the next day. Thanks to modular components and a predetermined parts library, MAP providers can ensure their customers get the best e-commerce experience—regardless of their Amazon Prime membership status.
8. High-mix manufacturers have industrial automation options
Traditional industrial automation technology is complex, and a successful deployment requires many programming hours. High-mix manufacturers are often deterred from pursuing automation projects because the solutions are either too costly or not agile enough to handle the breadth of products. However, manufacturing automation platforms (MAPs) offer an alternative. Manufacturers are increasingly turning to them for modular machinery and speedy deployments.
Plus, just as high-mix manufacturers alter their production mix, so too can they alter their equipment configuration. Reskilled laborers can operate and iterate machinery based on the production run. All this means that manufacturers can now earn a return on their automation investment quicker than ever.
Conclusion
Never before have so many short-term and long-term trends pushed manufacturers toward industrial automation. With demand for goods soaring and democratized technologies at their disposal, there has never been a better time for small- to medium-sized manufacturers to undertake their next big investments in production capacity.