Vention at PACK EXPO 2023: Cutting-edge industrial automation packaging applications and innovative software
September 15, 2023
|
Quinn Harker
PACK EXPO 2023, held from September 11th to 13th in Las Vegas, was the year's largest packaging and processing trade show in North America. With 2,300 exhibitors represented across 40 industries, the event was buzzing with game-changing solutions to packaging and processing challenges. 
Among the exhibitors, Vention attended PACK EXPO to showcase two of our innovative solutions that are automating previously manual and labor-intensive packaging operations: box erecting and palletizing.
Both applications were designed, automated, and deployed using our Manufacturing Automation Platform, which combines the power of modular hardware with user-friendly software. Integrated within our demos, visitors also got to experience MachineApps, code-free applications to operate your machine, and Remote Support, on-demand industrial automation support.  
"At Pack Expo, we witnessed a remarkable gathering of manufacturers, all converging in pursuit of progress. It became evident that most of them actively seek automation solutions, driven by a shared desire to elevate consistency and amplify throughput in their operations. Pack Expo really was a catalyst for innovative packaging solutions in the manufacturing industry." - Sophie Ducharme, Brand and Channel Marketing Manager
Three demos showcasing the latest in packaging technology
CRX-25 Cobot Palletizer
Visitors at our booth were impressed by Vention's CRX-25 cobot palletizer. This newly released collaborative robot (cobot) represents the future of manufacturing automation, blending precision and flexibility to streamline palletizing tasks. What set Vention's demo apart was its modular turnkey solution and its integration with a telescopic lift column, adding vertical mobility of up to 1.7 meters to the cobot's capabilities. This combination allows the CRX-25 to efficiently handle a wide range of palletizing tasks, from low to high stacks.
Another standout feature of the CRX-25 demo was the integration with MachineApps. This innovative software empowers manufacturers to not only monitor but also program their new SKUs directly into the system. With a user-friendly interface and intuitive programming options, the MachineApp enables rapid adaptation to changing production needs. The result? Reduced downtime, increased productivity, and enhanced flexibility for manufacturers looking to stay competitive in today's fast-paced market.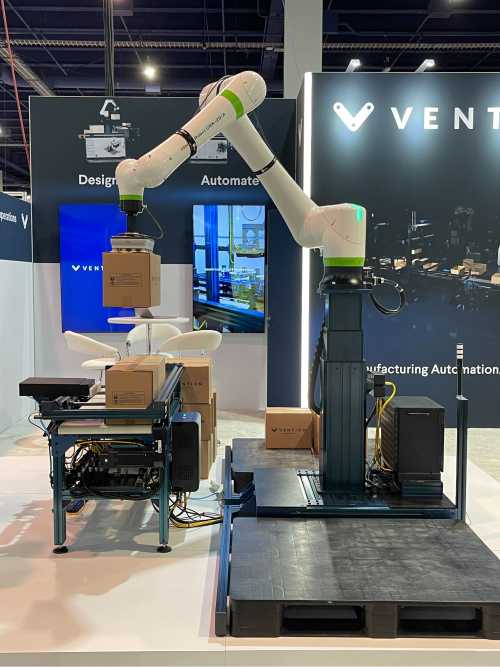 UR10 Box Erector 
In addition to the cobot palletizer, our booth featured a UR10e box erecting solution, showcasing the power of collaborative robotics in the packaging industry. This versatile robot demonstrated its ability to efficiently erect boxes of various sizes and styles, enhancing packaging processes with speed and precision.
With Vention's robot-agnostic approach, the UR10e box erecting was seamlessly integrated with Vention's MachineApp. This integration allows manufacturers to easily adapt their packaging lines to accommodate different box sizes and types and monitor important data such as box presence, box deformation, tape roll monitoring, and more.  With the ability to program the system right on the factory floor, Vention's solution empowers manufacturers to respond quickly to changing market demands.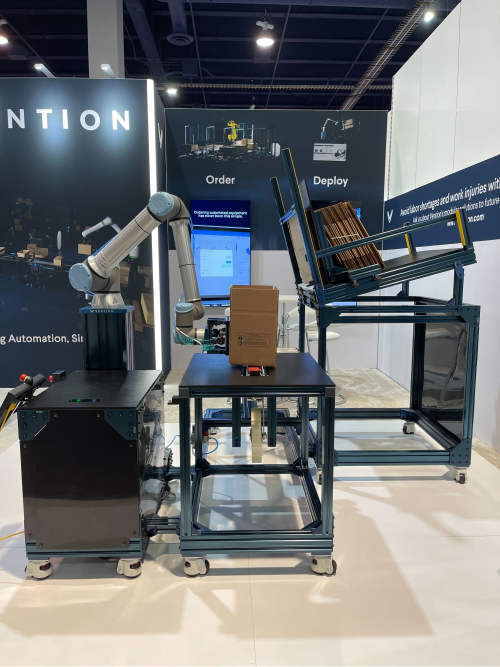 Remote Support
Our commitment to innovation doesn't just stop with our applications. We are also dedicated to providing world-class customer support, which is why we created Remote Support. This service offers manufacturers the ability to connect with Vention's support team on-demand to get high-priority issues resolved same-day.  
Remote Support provides expert assistance for troubleshooting, programming, and general maintenance tasks. This reduces downtime and minimizes the need for on-site service calls, ultimately saving both time and money. It's a game-changer in the world of manufacturing support, ensuring that manufacturers can keep their production lines running smoothly without delays.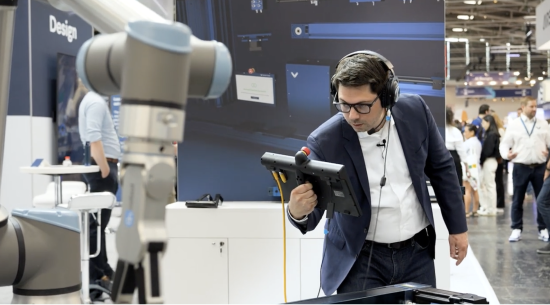 A bright future in manufacturing packaging and processing
Our presence at PACK EXPO 2023 was an amazing opportunity to connect with present and future clients, learn firsthand some of the pain points in packaging and processing operations, and demonstrate our innovative solutions that are providing manufacturers with the tools to thrive in an increasingly automated world. 
If you could not attend PACK EXPO 2023 but would like to know more about our products and services, please contact us at marketing@vention.cc.