Machine Tending: Seamlessly automate your CNC operations with Vention
September 13, 2023
|
Quinn Harker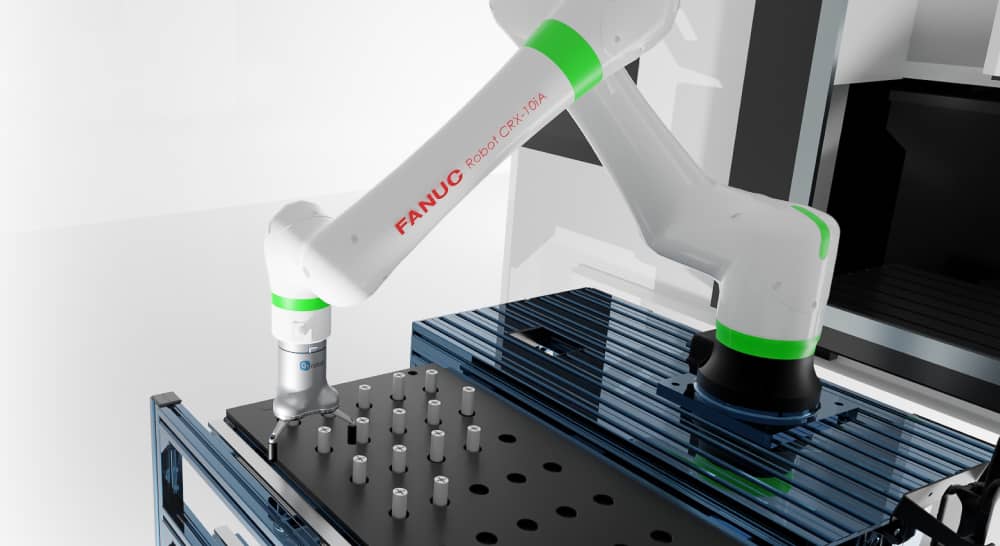 What is CNC machining?
CNC, or "Computerized Numerical Control," is a subtractive manufacturing technology in which pre-programmed computer software dictates the movement of factory tools and machinery. Typically, a 2D or 3D CAD drawing is conceived, which is then translated into computer code for the CNC system to execute. Parts are created by removing material from a solid block in repetitive, predictable cycles. CNC machining is commonly used in metal, wood, and plastic production.
When it comes to loading or unloading a machine, also called machine tending, it is considered to be a very manual, time-consuming, and repetitive process for operators. This is the main reason why many manufacturers choose to introduce automated machine tending to their factory floors. This application removes manual and repetitive tasks and replaces them with a highly productive, cost-effective, and efficient automated solution. Employees benefit from more fulfilling tasks, while plant managers can enjoy an increase in productivity, efficiency, and more.
Benefits of CNC machining automation
Manufacturers choose to automate CNC machining for many reasons. Here are the key benefits: 
Increased productivity: Run machines around the clock with little involvement from human operators.  
Cost reduction: By lowering the need for human involvement while increasing productivity, the cost to produce products is reduced.
Enhanced efficiency: Through automation, receive the same, consistent result every time and minimize the need for rework.
Automating machine tending with Vention
Vention's Machine Tending solutions are a modular, robot-agnostic, and cost-effective way to automate CNC operations. Available in drawer or tray configurations and compatible with a range of accessories to suit most production environments, our machine tending solutions can provide up to a full day of machine autonomy. In combination with our Robot 7th Axis, the same cobot can be used to tend several machines. Whether you want a complete or self-deployed solution or are looking for a hardware and automation kit, Vention has the machine tending solution for you.
With Vention, experience unique benefits
Quick payback: See a strong return on investment in six months or less. 
Easy to assemble: Assemble your full machine within four to eight hours with our automatically generated assembly instructions and your 3D design model as a guide. 
Fast delivery: With our fast lead times, receive your machine within five to 15 days. 
Robot-agnostic: Our machine tending machine is compatible with FANUC, Universal Robots, Doosan, and more.
Optimized footprint: Multiple design options are available, such as drawer system, tray system, floor anchored 7th axis, or overhead 7th axis.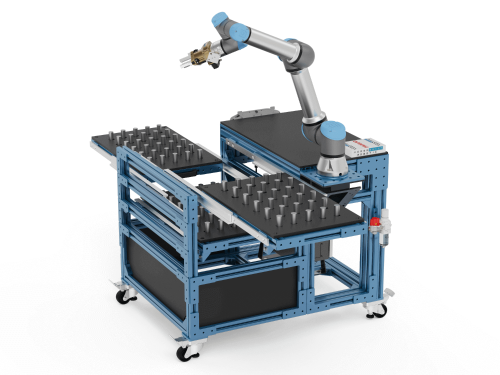 Machine tending in real-life

Vention recently published a customer story in collaboration with Spector & Co., a leading supplier of promotional products. Spector & Co. was looking to remove repetitive and dull tasks from their manufacturing floor so employees could be reallocated to more fulfilling tasks. They knew that automation was the solution to their problems, but with no prior robotic experience, they weren't sure where to begin.
After visiting their manufacturing floor and learning about their operations, Vention deployed a machine tending robot cell with a safety enclosure and area scanner. The result? Employees were moved to more fulfilling work, productivity increased, and output control improved.
Read the full customer story and watch the video
Support from design to deployment
Whether you prefer a complete turn-key package or specific hardware kits and components, we have you covered. We provide support at different levels based on your needs for every application you make with Vention. We offer free design help, on-site setup, and Remote Support whenever you need it. 
Questions? Interested in a machine tending solution for your manufacturing floor? Get in touch with our experts.