Vention is now ISO 27001 certified
July 06, 2023
|
Quinn Harker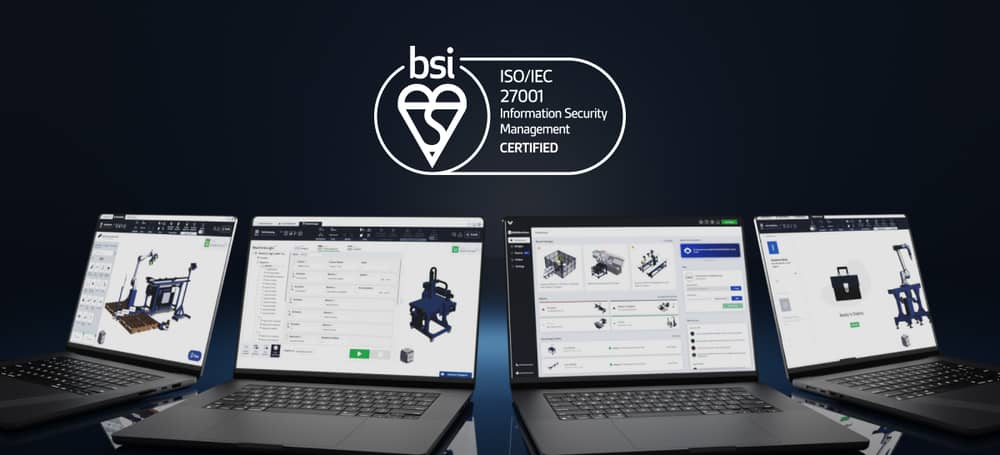 We're excited to announce that Vention has officially obtained the ISO (International Organization for Standardization) 27001 certification, one of the most widely recognized and internationally accepted information security standards. The certification is for all Vention processes and resources used to create, deliver, and maintain the Vention Manufacturing Automation Platform. It includes MachineScope, MachineBuilder, MachineLogic, MachinePortal, MachineApps, and MachineCloud.
Vention's unwavering commitment lies in providing a secure platform. From the moment your data enters our system through its storage and transit phases, every process is defined and controlled by procedures aligned with our standards. This includes everything from data encryption and access control to regular audits, ensuring we maintain the highest level of security.
While this is a big step, our security team is just getting started. Over the upcoming months and years, we have outlined a clear roadmap to further safeguard our platform. This includes executing our plan of action for NIST 800-171 compliance, achieving ioXt compliance for our MachineMotion devices, and increasing the transparency of our program by publishing our Consensus Assessments Initiative Questionnaire (CAIQ). These initiatives reflect our commitment to fortifying the security measures surrounding our customers' valuable data.
What is ISO 27001?
ISO 27001 is the leading international standard focused on information security. It identifies requirements for a comprehensive Information Security Management System (ISMS) and defines how organizations should manage and handle information in a secure manner, including appropriate security controls.
If you have additional questions, visit our Security Standards webpage.